11 Movie Actors Who Were Paid The Biggest Salary Per Words
9. Arnold Schwarzenegger - $21,429 Per Word For Terminator 2: Judgment Day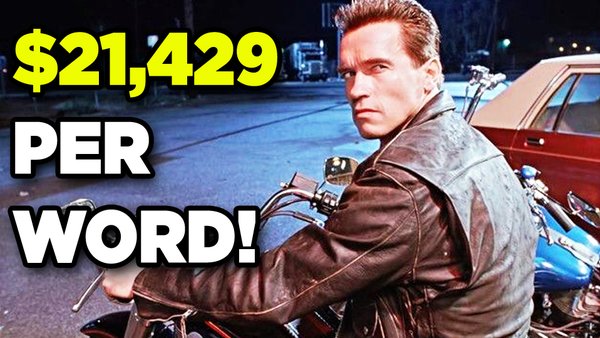 By saying "Hasta la vista, baby" in Terminator 2, Arnold Schwarzenegger pocketed $85,716.
For Arnold, his star had well and truly risen by the time of T2 - as shown by him being paid $15 million for the feature, compared to $75,000 for its predecessor.
That $15 million returned 700 words from Schwarzenegger's T-800 during Judgment Day, which works out at $21,429 per word.
For those interested, Arnold netted $1,293 for each of the 58 words he said while stalking Sarah Connor in James Cameron's iconic 1984 The Terminator. But not only did Schwarzenegger's fee increase massively between T1 and T2, his pay was taken to another level with 2003's Terminator 3: Rise of the Machines.
Initially hesitant to return without Cameron directing, Arnold was coerced into doing T3 after being offered a ridiculous $30 million fee with additional percentage points. Additionally, for every week that shooting on T3 ran over schedule, the franchise's main attraction got another $1.6 million, and he was also given $1.5 million for private jets, limousines, bodyguards, an on-set gym and high-price suites across the various shooting locations.
While his pay-per-words number isn't known for that threequel, Arnold reportedly earned roughly $4,000 for every second he was on screen in Terminator 3.