20 Things You Somehow Missed In Die Hard
"Come out to the coast, we'll get together, have a few laughs...".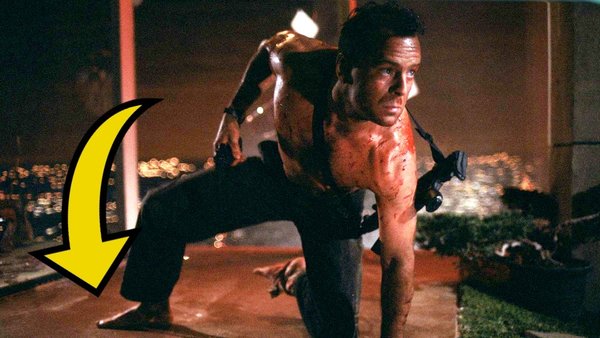 John McTiernan's 1988 film, Die Hard is considered one of the greatest action movies ever made and also one of the best Christmas films as well (even though Bruce Willis has confirmed his belief that it is not a Christmas film, many regard this film as essential Christmas viewing).
In equal parts an action film combined with a heist movie and a disaster flick, Die Hard has captured imaginations and created enjoyment around the world as audiences follow Bruce Willis's everyday hero, John McClane in his bid to be reunited with his estranged wife in the Yuletide Season, following a Christmas party that, well, could have gone much better.
The film made a star out of Willis practically overnight and spawned a successful franchise that may or may not still be continuing (Willis does not look like he's ready to give up his favourite onscreen character anytime soon, whilst rumours of a prequel television series have been circulating for some years).
Importantly, it broke away from the 1980s trend of throwing beefcake stuntmen types such as Arnold Schwarzenegger and Sylvester Stallone into leading roles, instead giving viewers the opportunity to see Willis's everyday man - an on-edge cop - racing around a high rise building that, for all intents and purposes, seemed ready to collapse around him.
Like any great film, however, there is plenty about Die Hard that can easily be missed; this list explores 20 things that often go unnoticed.
20. Many Of Alan Rickman's Expressions Were Genuine
Die Hard was Alan Rickman's first major Hollywood role following a successful television and theatre career in his native Great Britain. Indeed, he was at first hesitant to accept the role of Hans Guber, as he would be performing in an action film but, when filming began, that became the least of the future Severus Snape's worries: he needed to keep track of his expressions onscreen.
One early example comes in the sequences in which Hart Bochner's Harry Ellis walks in on him and says "Hans, bubby". Gruber gives Ellis a quizzical look and this was not actually acting: Rickman was genuinely surprised by what Bochner was doing, but continued to act around him.
The greatest example, however, comes in Gruber's death scene, where he plummets down the side of Nakatomi Plaza in Los Angeles, threatening to take Holly Gennero-McClane (Bonnie Bedelia) with him. Unfastening Holly's wristwatch, Bruce Willis's John McClane sends Gruber to his own shocking demise. Sounds simple, right?
For Rickman, it was far from it; poised over a 21-foot drop to a soft landing below, Rickman was told by the stunt team that they would release him on the count of three. However, they decided to let him go on the count of two instead, evoking the now classic reaction from Rickman that brought so much to Hans Gruber's comeuppance.