25 Greatest Film Musicals Of All Time
What follows is our definitive list of the twenty-five greatest movie musicals of all time, in descending order.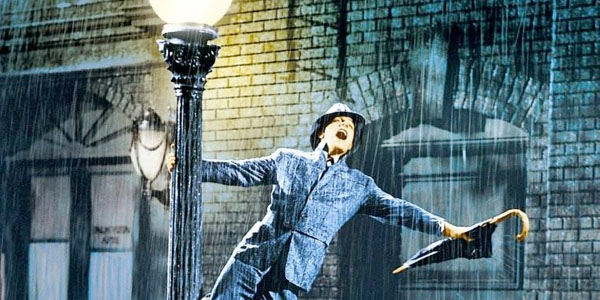 Much like the old nursery rhyme about the little girl who had a little curl right in the middle of her forehead, when a movie musical is good, it is very, very good. But when it is bad, it is horrid. Sgt. Pepper immediately springs to mind in the latter category, of course. There was also Kismet, which found itself unfortunately produced at the extreme tail-end of the Golden Age of the movie musical. South Pacific, Oklahoma! and Carousel were valiant efforts that tended to slack off midway through, and Godspell was the unwilling victim of poor direction. And though Jesus Christ Superstar retains its status as a cult hit, it wasn't difficult to scope out the problems in transferring the stage show to celluloid, plus let's not get started on the tragic messes that were A Little Night Music, Hello, Dolly!, Mame or A Chorus Line. In recent years, such transfers from Broadway to film have included musicals with varying degrees of success, among them Chicago, Nine, and The Phantom of the Opera. There have even been very good original efforts as of late, as in the case of Across the Universe and Moulin Rouge slightly before it, even with adapted music and lyrics. But whatever the era, the simple truth is that there's nothing like a good movie musical. Thus, what follows below is what hopes to be the definitive list of the twenty-five greatest movie musicals of all time, in descending order.
25. Calamity Jane (1953)
Doris Day spent a good deal of her career trying desperately to shake her good-girl image, to virtually no avail. But she did manage to come close when she accepted the title role in Calamity Jane. Aided by a superb supporting cast headed by Howard Keel and Allyn Ann McLerie, Ms. Day proved an endless delight at all moments as the tomboyish heroine, whether being strung up in a theater shouting "Let me loose!", duetting with Mc Lerie on "A Woman's Touch," or ordering one of her beloved "sasparilley" cocktails at the bar. The delectable score by an uncredited David Buttolph and Howard Jackson didn't hurt either, along with touches by screenwriter James O'Hanlon.
Andrew Martin
Upon choosing to study musical theatre intensively as a child and teenager, both in local classes and at the Usdan Center for the Creative and Performing Arts for three summers, Mr. Martin made his professional stage debut as a founding member of the internationally-acclaimed TADA! Youth Theater in 1984. Since that time, he has appeared on stages throughout the New York area and the Northeast as well as film and television. In the late 1980s, he shifted his career slightly to include cabaret performance, garnering in the process a 1994 MAC Award nomination for Outstanding Male Musical Comedy, but in 1990 also became an entertainment reviewer and contributor for Night & Day Magazine as well as a weekly broadcast on New York Entertainment Digest on WRTN-FM. He has since been a reviewer for the weekly New York Native newspaper and eventually contributed to Back Stage and New England Entertainment Digest among myriad other publications, and also briefly co-hosted the "Cabaret Corner" segment with Roy Sander for the PBS program "New York Theatre Review," broadcast in 1995 on WNYE-TV Channel 25. He also, in 1991, launched the nationwide magazine CaB which, though most largely focusing on cabaret and standup comedy, also covered theatre, film, television, recordings, jazz, performance art, dining, wine, travel, and every other cultural medium before closing the magazine officially in 1996. By the mid-1990s, he shifted his performance career yet again to include work as a standup comedian and celebrity voice impersonator, and subsequently garnered acclaim for shows at the Comic Strip, the Comedy Cellar, Gotham Comedy Club, the Improvisation, Boston Comedy Club, the Duplex, Stand-Up NY and many other leading local laugheries. In 2001, he became a founding member of the sketch comedy group The Mistake, and along with founder Ken Scudder is currently the last remaining original member of the award-winning and critically-acclaimed company; Mr. Martin won a 2005 Spotlight-On Award for Outstanding Special Musical Material, and the group also won several awards in other categories over the following two seasons. In 2007, Mr. Martin collaborated with Corbin Ross on the screenplay "Exit Laughing," a biographical script about the late comedy legend Allan Sherman. He is currently developing scripts for two other true-life entertainment biopics; one is "Static: The Lena Zavaroni Story" and the other is "Everything is Beautiful: The Life of Dorothy Squires." A fourth, "A Girl Named Timi," focuses on the life and career of singer Timi Yuro. In 2009, Mr. Martin completed a script for an hour-long comedy pilot geared for cable television, entitled "Breach of Conduct," which now hopes for release as a Web series beginning in 2013. He also garnered a 2010 Planet Connections Award for Outstanding Supporting Actor in a Musical for his portrayal of Harwitz E. Green in "Green! The Musical" at the Gene Frankel Theatre, and followed with a theatrical appearance as the Butcher in "Son of a Butcher" by Grant Harrison, directed by Julian Leong as part of the annual "FrightFest" at 13th Street Repertory. More recently, he created the role of The Writer in the worldwide premiere of the one-man short play "The Entry," presented as part of the 9th Annual Fresh Fruit Festival in New York City and directed by Carol Polcovar, with a script by legendary playwright and off-Off-Broadway co-founder Robert Patrick ("Kennedy's Children," "T-Shirts," "Blue is for Boys," etc). He will soon embody a featured role in the independent short film "Lillian" by Amanda Pennington, a lesbian love story based on Edna St. Vincent Millay's poem, "What Lips My Lips Have Kissed," starring acclaimed actress Kathleen Chalfant, and the featured role of pimp Johnny Long in the major motion picture "Dark Halls." And he continues a career in entertainment journalism, contributing reviews of theatre, cabaret and books as well as a column on cabaret history to http://www.NiteLifeExchange.com, and in two weekly broadcasts for the historic NYC station WPAT 930 AM; a live webstream is available at http://www.wpat930am.com/. Most recently, Mr. Martin has begun to find renown as a film historian. His first book, "All For The Best: Transferring Godspell From Stage To Screen," about the 1972 filming of the musical mega-hit, was published by BearManor Media in November of 2011. A second book in two volumes, "Scene Stealers: The Supporting Actors and Actresses No One Could Ever Forget," hopes to be published shortly, followed by "Sirens of Sepia: The Great Black Cinematic Actresses From the Silent Era Through the Present," and then "For Want of a Nail," which documents the life and career of cult film actress Shirley Stoler. In addition, he is currently trying to develop a documentary film about a specific area of the entertainment industry.
See more from Andrew