5 High Seas Adventures To Watch When You're Done With Pirates Of The Caribbean
This post is brought to you in association with PokerListings.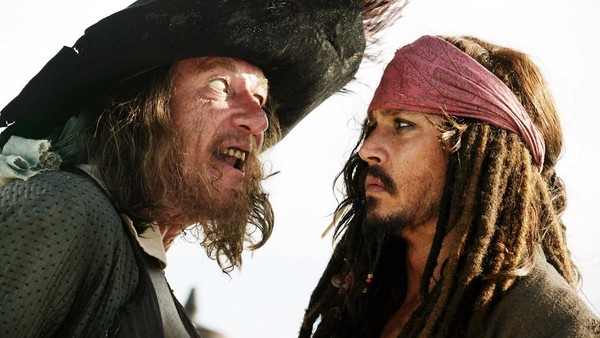 Disney's Pirates of the Caribbean franchise is one of the highest-grossing film series of all time having made over $4.5 billion since its first movie released in 2003. It's not hard to see why it's been so successful - the series features dramatic and exhilarating stories stuffed full of intrigue, backstabbing, swashbuckling, gorgeous ships and brilliantly written and performed characters - all produced to exquisite quality and fantastic musical scores.
Due to the success stories of the films, Pirates of the Caribbean have also had various video game titles for both console and PC, in these games you can play as Captain Jack Sparrow himself and sail across the seven seas. Pirate themed slot games also continue to be popular with fans of the films. 'Hooks Heroes' and 'Ghost Pirates' are pirate slot games that will have players thinking they are part of Captain Jack Sparrows crew sailing across those salty Caribbean waters. Online casinos assisted by game development companies regularly use the popularity of famous films in order to attract players. Some other examples of film themed slot games include; The Mummy, Batman, Rocky and even Forest Gump!
Given its enormous success, however, viewers will be left wanting more high seas adventure after finishing off the fifth and currently final instalment in the Pirates of the Caribbean saga. Here are five movies or shows to turn to when you need another fix of ship-to-ship combat, swashbuckling heroes (and villains), dramatic storms and piratical escapades.
Master and Commander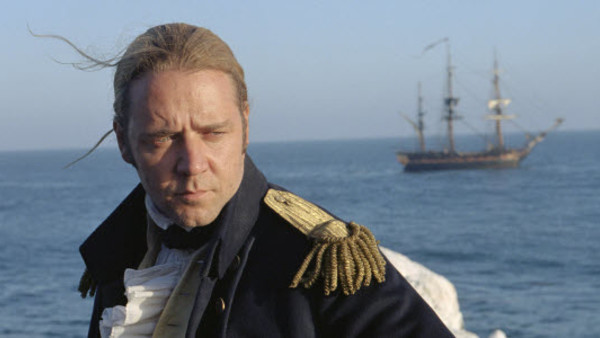 Patrick O'Brian authored a series of twenty books following the lifelong friendship and adventures of Captain Jack Aubrey (here played by Russel Crowe) and ship's surgeon Dr. Stephen Maturin (Paul Bettany) during the early 19th century Napoleonic Wars. This 2003 masterpiece combines elements from a number of these books to tell a completely captivating and brilliant exciting story of a lone British frigate far from home pursuing a far superior French counterpart.
Master and Commander faithfully explores many aspects of naval life during this period, including the social dynamics of a crew of nearly 300 men living and working together for months or even years at a time, the combination of calculated order and total chaos of brutal ship combat, the challenges of extreme weather, and the competing values of militaristic interest and scientific inquiry.
The film features amazing attention to detail and brilliant production value, filmed in part aboard a genuine replica of an 18th century warship. For anyone looking to scratch that itch for high seas adventure (especially if they're looking for something more realistic than Pirates of the Caribbean), Master and Commander will not disappoint.
Hornblower: The Even Chance
Similarly to Master and Commander, The Even Chance is based on a series of books; the Hornblower series by C.S. Forester. The Even Chance, also known as The Duel in the United States, takes place in 1793 and follows the early career of Horatio Hornblower, a young Midshipman (junior officer), in the Royal Navy.
Also, like Master and Commander, The Even Chance plays out a more historically accurate take on life at sea in the late 18th century, with the focus here being on the relationships among the crew.
Where the Master and Commander film is best understood as a self-contained story, The Even Chance is very much set up to be the first in a series of what would ultimately span eight films. These are clearly British television films, rather than Hollywood blockbusters, however, which means that viewers who appreciate a slightly more slowly paced narrative will derive the greatest enjoyment from these naval tales. And for those who do, there is the great prospect of a further seven films to follow Hornblower's adventures!
The Bounty (1984)
The mutiny of the crew on the Royal Navy vessel HMS Bounty in 1789 is such a famous event in maritime history that several movies have been produced portraying its events, including the beloved 1935 and 1962 versions, starring Clark Gable and Marlon Brandon respectively. The true story on which these films are based saw the crew of the ship rise up against its captain William Bligh.
William Bligh is a complex historical character regarded by some as an especially cruel and tyrannical officer but by others as a misunderstood authoritarian typical of his time. Earlier films portraying these events relied heavily on a sadistic characterization of Bligh, while the 1984 version listed here attempts to explore a more nuanced perspective on both him and others involved.
The 1984 version is also particularly worth your time due to its star-studded cast including the legend of the screen Laurence Olivier as well as contemporary megastars Mel Gibson, Liam Neeson and Daniel Day-Lewis. Best of all, it features a stunning performance from Anthony Hopkins as an intriguingly dynamic William Bligh.
The Terror (Season 1)
Departing the silver screen for the last two entries, The Terror is one of two TV shows included here. The first season of The Terror is a fascinating production offering a unique take on the theme of high seas adventure. It opens in 1846 following the real events of Sir John Franklin's failed Arctic expedition.
Ever since it was first realised that the expedition had failed and its members were missing, there has been enormous popular interest in trying to work out what had gone wrong. Several rescue missions were mounted in the years following the expedition, and more recently many scientific investigations have been carried out to determine what had happened, but none of these efforts have yielded conclusive evidence.
Suffice to say that The Terror lives up to its name in providing an interpretation of what may have caused the expedition to fail. With truly standout performances from the entire cast and steadily mounting tension and horror, the first season of The Terror will seize your attention and hold on to it throughout. If you enjoy the first season, there is a second season for you to watch too!
Black Sails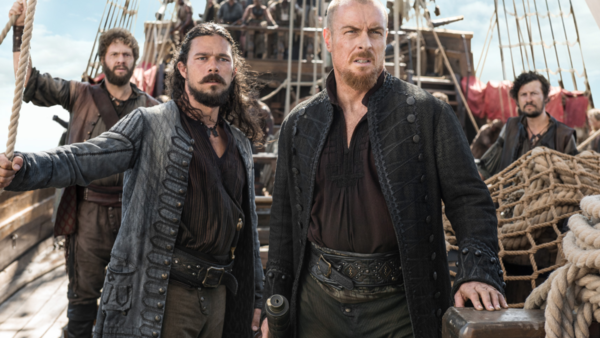 Saving the best for last, the other TV show in this list is Black Sails - a four season epic chiefly following the adventures of Captain Flint and the famous Long John Silver starting in the year 1715. The show is a gloriously rich retelling of the Golden Age of Piracy, and also features fictionalized versions of infamous real-life pirates such as Jack Rackham, Edward "Blackbeard" Teach, Ned Low, Benjamin Hornigold and many others.
The development of the show's main characters produces arcs rivalling the best TV has to offer. In particular, the dynamic relationship between Flint and Silver is increasingly complex and beautiful in equal parts as the show progresses through its seasons. With a host of brilliantly written and meaningfully different characters constantly redrawing allegiances, Black Sails will engage and entertain the viewer with dozens of hours of swashbuckling, skulduggery and other piratical delights.
If you're craving more of what Pirates of the Caribbean did so well at, but don't mind the removal of the fantastical then Black Sails is the show you have been searching for!
This post was brought to you in association with PokerListings.
Create Content and Get Paid
---