5 Reasons Why Shame Was Criminally Ignored At Oscars 2012
Despite the praise lauded upon McQueen's film the Academy decided that it didn't merit a nomination at this year's Oscars. Here's five reasons why they were wrong...
Steve McQueen€™s drama "Shame" has been critically acclaimed and nominated for a whole host of awards at film festivals and ceremonies across the world, but was criminally shunned by the Academy and didn€™t receive a single Oscar nomination. The film follows the story of sex addict Brandon (Michael Fassbender) as he battles his demons when his younger sister Sissy (Carey Mulligan) comes to stay and adds extra stress on his life. Brandon and Sissy are both the products of a poor upbringing and deal with their issues in their own ways. Brandon is cold hearted and void of emotion where as Sissy is an emotional rollercoaster of a person and despite them both being so desperately in need of help they clash furiously. "Shame" has been hailed as a magnificent cinematic achievement and called powerful, courageous, brave, captivating, intense and a variety of other superlatives. However, despite the praise lauded upon McQueen€™s film the Academy decided that it didn€™t merit a nomination at this year€™s Oscars. These are our 5 reasons why "Shame" should€™ve won an Oscar.
1. Amazing Direction
"Shame" looks amazing, the performances are exhilarating and the film has had the desired effect upon audiences, which is all down to its assured direction. Steve McQueen€™s vision for his film was perfectly realised as he sought to examine the human condition and two troubled people€™s lives as they search for ways in which to hide the shame they feel about themselves. McQueen put two people under a magnifying glass and showed the world their flawed personalities and the ways in which they try to bury those flaws, but only manage to push themselves further and further into shameful regret. In order to allow audiences to closely examine his characters McQueen chose a simple style of direction with a limited amount of camera set ups so audiences weren€™t dazzled, confused or even led by the jumps between shots or through editing techniques. Instead he chose long takes that would allow his characters to move around within a space and allow us to see everything they do. Slow drawn out scenes also allowed for audiences to have greater time to watch the characters unravel and for the actors to express themselves. McQueen brought out fantastic performances from his talented actors. The nudity within the film has been questioned, but by showing the characters fully nude the first time we see them it strips away their clothing, possessions and all the trappings of life. Watching them nude shows only the characters in their rawest form and free of anything that may take audiences away from examining them for who they are and how they act. McQueen tells his story through the actions, body language and stories of his characters. He stripped them and his film bare so the characters tell their stories with the movements, facial expressions and physical features. Brilliant directing and some very bold choices that many directors may have been too frightened to make.
2. Social Commentary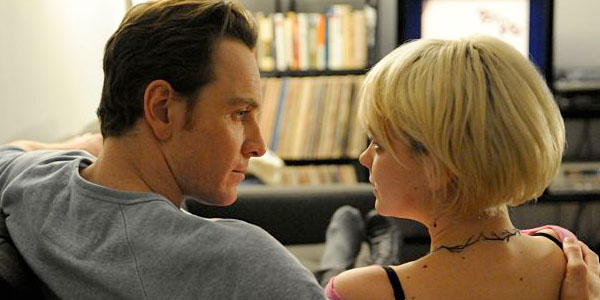 "Shame" is a poignant film that has looked at society and examined the actions of people and then boldly commented on their flaws and complexities. This is something that any great film should do, but too often doesn€™t. McQueen is making a statement about the world we live in and how each of us conducts our lives. Brandon and Sissy are two damaged individuals that are unable to overcome their past and instead of dealing with their issues they choose to hide them and then search for escapism. The wish to get away from our lives is a common thing in most people no matter from what walk of life you originate and we each choose our own form of escapism. For some it€™s harmless things like cinema, shopping, exercise or music, but for people with deeper and darker issues it can be sex addiction like Brandon or even drink, drugs, self harm, fighting, crime or obsessive tendencies towards less extreme things like body building, exercise or tattoos. We each have our flaws and compensate for them in our own ways also. Again for some of us it€™s just being bored with our jobs or wishing we had a nicer house, but for some it could be the manifestation of horrendous acts committed by or against us. McQueen has taken the story of a sex addict in order to make his point, but the same film could have easily been made with an alcoholic, sex addict or a man addicted to steroid abuse and body building. As the shame of our past or present lives drives us to escapism sometimes that thing in which we choose to escape only serves to enforce the shame within, as it does with Brandon. The search for escapism then becomes more obsessive as we strive for bigger and bigger highs to hide our greater and greater feelings of shame. McQueen has held a mirror up to a society unhappy with a lack of jobs, financial difficulty, political activism, immoral and unethical media standards and shown us how we deal with the difficult times in which we currently live. For many people they go about their day unaware of the way they live their life and it isn€™t always easy to see this behaviour in yourself or others. Not often enough does a film really make a statement about the world we live in and how we live our lives.
3. Great Acting
Michael Fassbender and Carey Mulligan gave outstanding performances as Brandon and Sissy the damaged siblings and both were nominated for a host of awards at festivals and ceremonies across the world. Fassbender in particular has been applauded for his work as Brandon and has won a variety of awards. For both actors the roles they played within "Shame" were difficult and uncomfortable characters filled with hate, shame, rage, sadness and flaws. They frequently had to deliver several emotions within a short space of time as their characters tried to deal with their inner demons and their outward manifestations. That job was made even more difficult by McQueen€™s choice to use minimal camera set ups. Most films shoot a scene from a variety of angles so that if one camera set up stops working they can switch, change the angle, highlight something or someone different or even cut away from a particular take and marry it up with another in order to get the best performance throughout. "Shame" left its actors with nowhere to hide and any lack of performance or tiny flaw could easily have been magnified. McQueen€™s long takes and minimal set ups left his himself without a point to cut away from the action or characters and didn€™t allow them an opportunity to cut together different takes in one scene. This meant that the performance had to be spot on throughout an entire scene. Being able to perform in such an environment I difficult enough, but to do it so well was truly magnificent. It is just a shame that the Academy didn€™t see these performances as other notable film festivals and ceremonies around the world that applauded the film did.
4. Pushing Boundaries
Throughout the history of cinema the films that have been the best, most memorable and most important are those that push the boundaries, break the mould and drive filmmaking forward into a new era whether it be through storytelling, direction, editing, sound or cinematography. "Shame" is a powerful and bold film that took an unwavering approach to examining the human condition and showed it to the world as bare as possibly could be. The film attempted to push the boundaries on how far you can take a character in order to examine his actions by pushing Brandon right to the edge of his sanity. The film also uses nudity and sexuality in order to portray its characters in their rawest form and not many films have shown their characters in this way. Although "Shame" may not be considering a massive leap in the pushing of cinematic boundaries please consider that the film that swept up at the Oscars was The Artist. A nostalgic film about a by gone era of cinema and it did little or nothing to tell a story that was new or different. The story within The Artist has been told a million times, except this time it was told silently. As much as I admire the bravery of making a silent film, it didn€™t exactly break the mould and the direction within that film was one of theft from a variety of films over film history. The Artist used every clichéd storytelling shot within the book, as well as a dancing dog, to tell it€™s story.
5. Critically Acclaimed
I understand that even if a film is critically acclaimed it doesn€™t always translate to Oscar success and also that box office numbers doesn€™t equal statues, but the Academy cannot surely have a different insight to the masses of critics? I applauded the Oscars a few years ago when James Cameron€™s ridiculously budgeted pile of excrement Avatar was overlooked in order to award The Hurt Locker it€™s rightful selection of statues and earn itself the title of lowest-grossing film to have ever won the Best Picture award. I thought that maybe the substance of a film would reign supreme over finances again. The Academy obviously didn€™t see it that way, but these are some of things that the press has said about "Shame". "Shame" received an aggregate of 80% of critics giving it a positive review on the website Rotten Tomatoes. At Metacritic it received an average score of 72 out of 100. Legendary film critic Roger Ebert of the Chicago Sun-Times called the film €œcourageous and truthful€ as well as a €œpowerful film€ and went on say that €œthis is a great act of filmmaking and acting€. Ebert named it as his second best film of 2011. Todd McCarthy of The Hollywood Reporter commented, €œDriven by a brilliant, ferocious performance by Michael Fassbender, Shame is a real walk on the wild side, a scorching look at a case of sexual addiction that€™s as all-encompassing as a craving for drugs.€ The Hollywood News€™ Dan Bullock stated, "Shame is captivating and intensely intimate. McQueen has followed up Hunger with an unflinching and compelling film that explores the depths of addiction and the consequential destruction and demise of the mind and although it is sometimes difficult to watch, you won€™t be able to keep your eyes off it." Justin Chang of Variety said, "A mesmerizing companion piece to his 2008 debut, Hunger, this more approachable but equally uncompromising drama likewise fixes its gaze on the uses and abuses of the human body, as Michael Fassbender again strips himself down, in every way an actor can, for McQueen's rigorous but humane interrogation." The New York Times€™ A. O. Scott said, "McQueen wants to show how the intensity of Brandon€™s need shuts him off from real intimacy, but this seems to be a foregone conclusion, the result of an elegant experiment that was rigged from the start."
"Shame" is a magnificent piece of filmmaking that is so well directed and acted, makes a bold statement about society and is pushing boundaries and driving cinema forward. Critics have praised it and audiences have responded well to a film that has been awarded and nominated for several prizes at film festivals and ceremonies around the world. It is inexplicable why the lauded Academy decided to shun a film that has ticked so many boxes of what makes a truly great film.