7 Surprisingly Dark Moments From Your Favourite Christmas Movies
Buzz Lightyear killed Santa Claus. Yeah, that happened.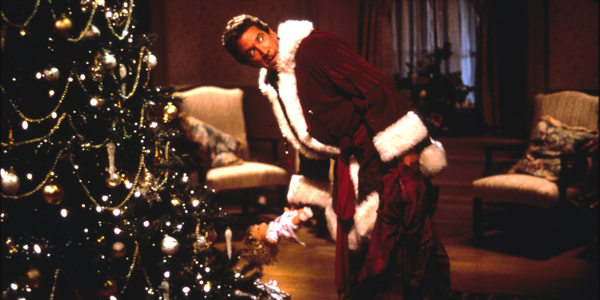 For all the bucketloads of sentimental Yuletide movies made every year, there is a subgenre of Christmas films that aim to give you the exact opposite - those which swap the schmaltz for scares or the tinsel for terror. Think the bloodthirsty Black Christmas, the cynical Bad Santa, or even the newly-minted Krampus, which sees a demonic version of Santa Claus visit an unassuming family one Christmas. Yet what about those films that purport to be fun for all the family, but have at least one scene which is surprisingly sinister? Caution: this article may contain the Terminator set loose on Santa's reindeer, and Buzz Lightyear murdering Kris Kringle. You have been warned.
7. Arnie Punches A Reindeer - Jingle All The Way
All right, Jingle All The Way isn€™t actually anyone€™s favourite Christmas film but it is unfailingly played every December on television at a family-viewing slot €" despite presenting a cynical view of the festive season and completely spoiling the magic for the kids by revealing that is actually their parents who get their presents for them rather than Santa. Oh, erm, sorry you had to find out like this. One scene in particular is both mean-spirited and pretty traumatising for unsuspecting kiddy-winks. Namely the scene where Arnold Schwarzenegger knocks out a reindeer. Arnie's character, desperate to get his son a Turbo Man action figure for Christmas, has resorted to housebreaking to steal one but in doing so is cornered by a guard reindeer (yeah, don't ask). Suddenly Arnie thinks he's in an action film and floors it with one punch. Rudolph will definitely have a red nose this year...