8 Brilliant Movie Plot Twists (That Don't Make Sense At All)
8. Why Did Anyone Join Fight Club When The Narrator Was Actually Just Beating Himself Up? - Fight Club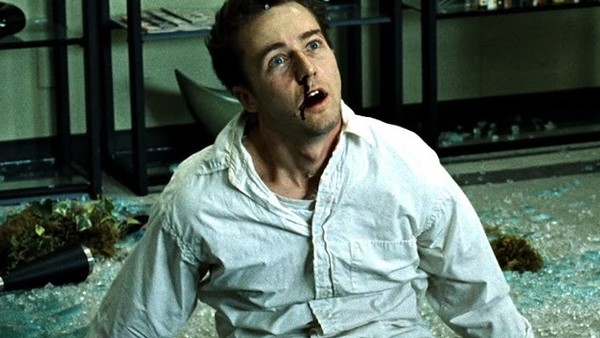 The Plot Twist: In Fight Club, a materialistic drone (call him Jack) befriends an uber-cool, '90s guy named Tyler Durden, and the two hatch a plan to start something called "Fight Club," where men get together in a basement and proceed to kick the sh*t out of one another for therapeutic reasons.
This escalates to the point where the group become a wanted terrorist syndicate, and it turns out that our drone-like stooge and his uber-cool buddy were actually the same person all along.
But Wait... Great as this twist is, and iconic as it has become in the realm of "twist movies," it doesn't really justify its own existence, simply because - when you comb back through the movie and picture every scene taking place with just one character instead of two - it makes no sense. Case in point: Fight Club originally starts up when two random guys approach our two main characters and ask to join in.
When we first see this, it's fine, because there are two people present, Jack and Tyler, seemingly fighting one another. But in reality, there's essentially just one character standing there punching himself in the face - Jack. How and why would anybody ask to join a club run by a guy who spends his time beating himself up in a parking lot?