8 Incredible Ways Movie Spoilers Were Kept Secret
6. J.J. Abrams Outright Lies About Benedict Cumberbatch's Role - Star Trek Into Darkness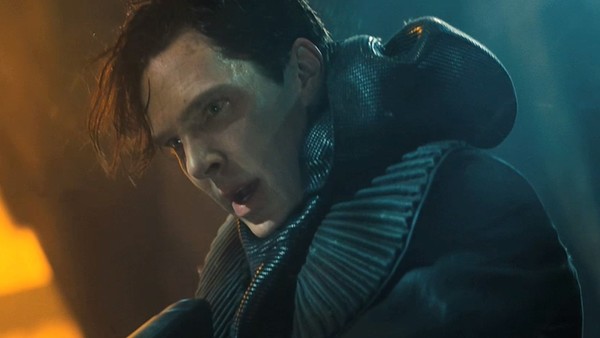 All anyone could talk about in the run-up to 2013's Star Trek Into Darkness was the character Benedict Cumberbatch would be playing.
The nerd world believed beyond a shadow of a doubt that the sequel would feature Khan, one of the most popular villains in Star Trek history (this belief mainly stemmed from the fact that Khan appeared in the second Trek film in 1982, and Into Darkness would be the second film in the new timeline), and of course, they were right.
But obviously, director J.J. Abrams didn't want people to think this way, since the reveal of Khan in the film is designed to surprise and shock the audience. So what did he do? He outright lied to us.
When reports that Khan would be in the film first started circulating, Abrams responded to the claims by simply saying "not true" (via Uproxx). He then took this deception one step further during production, where - on a day when the press were visiting the set - he created and screened an entirely different version of a scene, purely for the purpose of tricking the mass media.
The scene in question was the space-jump sequence that takes place after the reveal that John Harrison is actually Khan. In the finished film, onscreen text and character dialogue refers to Cumberbatch as Khan, but in the alternate version Abrams showed to the press, "Khan" was replaced with "Harrison".
In the end, withholding the true nature of Cumberbatch's role hurt the film more than it helped it (Abrams has since admitted it was a mistake), but you have to admire the director's desire to keep the audience guessing.