8 Things You Need To Know About Universal Orlando's New Jurassic World VelociCoaster
There's a new roller coaster roaring into action at Universal's Islands of Adventure.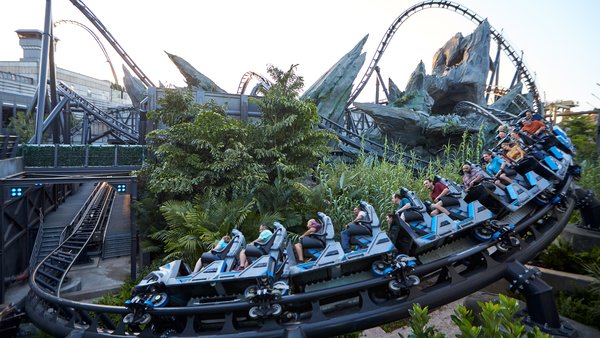 A new attraction is roaring into action at Universal Orlando Resort. Islands of Adventure's new Jurassic World VelociCoaster is officially open, taking riders on a race with the park's most fierce residents.
Jurassic World VelociCoaster will "propel" you through the immersive raptor enclosure, loop you through inversions and send you dropping down an enormous "top hat".
Head into blockbuster franchise as part of an original storyline in the world of Owen Grady, Claire Dearing and Dr. Henry Wu. Become part of Jurassic World but will you make it out without the Raptors getting their claws in you?
To celebrate the opening of Jurassic World VelociCoaster, we're taking a look at everything that you need to know about the newest attraction at Universal Orlando Resort.
8. There's Four Inversions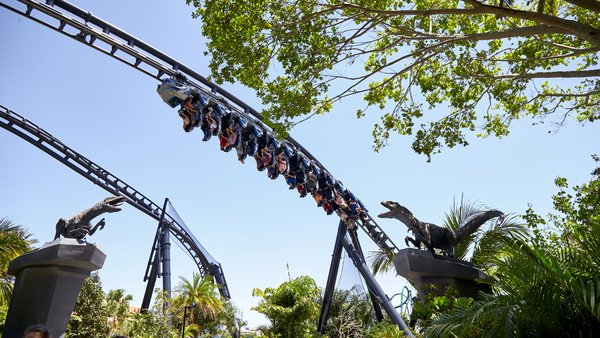 Feel the thrill of zooming upside down across a dinosaur enclosure with only a lap bar to hold on to.
There's plenty of upside down moments with 360 degree inversions, an inverted stall and a y spiralling heartline roll across the park's lagoon. You'll be so close to the water that you might feel like you can almost touch it. Let's hope there isn't a mosasaurus' in the lagoon!
The "revolutionary-designed ride vehicles" mean that there are no over-the-shoulder straps to hold you in, instead you'll have a lap bar keeping you securely in place.
Those of you who want to feel the rush will be pleased to hear that VelociCoaster's intensity will "amplify a sense of weightlessness from start to finish". In fact you'll experience a massive 12 heart-pounding seconds of airtime during the ride.