After Earth: Can Will Smith Save M. Night Shyamalan's Career?
The Argument Against: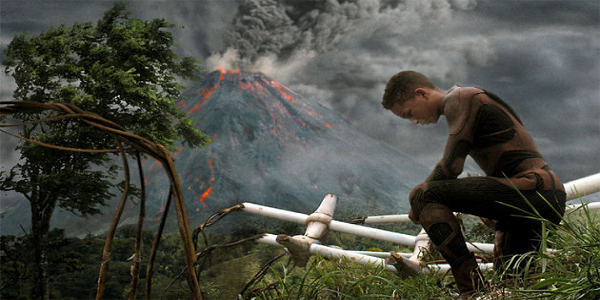 While Will Smith could easily bunt for a First Base (maybe even Second) for M. Night, the fact remains that the director's reputation is damaged almost beyond repair as a filmmaker, as well as a storyteller. While he isn't completely persona non grata in Hollywood, he is a constant punchline for cynics and audiences to rally against. Audiences at ComicCon 2010 booed the trailer for Devil the moment his name came on the screen...and he only produced/influenced that project! Not to mention his last film, The Last Airbender, was shrouded amidst controversy about "race bending" the characters into a mostly White cast. On top of, you know, not being a good film in any way shape or form. Also, judging by the content of the trailer, this doesn't look to be Will Smith's movie at all. In rather oblique terms, the trailer tells us that Will is going to be sidelined by the crash in some way or form. It is going to be up to Jaden Smith to carry this film, as he is the one roaming this new, more primal Earth. Which is a horrible mistake, because he is definitely NOT ready for headlining a film like this, much less a "career saving" film for an artistically questionable director. By the numbers, Jaden's only starred in three films, and two of them he was a character's child. He hasn't enough experience in Supporting Roles to take on a role such as this, which obviously has franchise ambitions writ large. The best thing one could say is that he's once more playing the role he was born to play...Will Smith's son. Click "next" below to read "The Final Verdict"