Alan Partridge: Alpha Papa Review
rating: 4.5
It€™s been a busy couple of years for Alan Partridge, who despite being fictional is enjoying a career renaissance that most regional disc-jockeys can only dream of. He€™s written a bestselling memoir, embarked on a nationwide book tour of East Anglia and fronted a soul-searching documentary for Sky Atlantic, all the while continuing to pour €˜radio gravy€™ into the ears of listeners right across the North Norfolk area. As if that wasn€™t enough, he€™s now €˜top daddy€™ in a new movie from 'the French dudes' at StudioCanal and his hated former paymasters at the BBC. Alpha Papa is a siege drama that Partridge might pitch as €˜Jason Statham meets Roger Moore on a Dog Day Afternoon in Norwich City Centre (plus the A140 to Cromer) for the Mail Online comments-section generation, but without the gay agenda (of Dog Day Afternoon, not Jason Statham meeting Roger Moore on the A140, don€™t go looking for subtexts that simply aren€™t there)€™. He might also be pleased with the result, as the masterstroke of this nimble leap to the big screen for Steve Coogan€™s ever-evolving comic creation is that it€™s on Alan€™s side. He doesn€™t necessarily win, or even redeem himself, but for the first time in 21 years Coogan affords his alter ego a sliver of dignity and, touchingly, contentment. Whereas the TV shows came to mock and humiliate with laser-guided precision, Alpha Papa is a broader and more affectionate portrait of the Partridge, here seen with a spring in his step. With his flowing salt-and-pepper locks, €˜chillaxed€™ Top Gear-inspired wardrobe and low-wattage aura of local celebrity, this is a very different Alan to the petty pariah of ten years ago, when he ghosted through the Travel Taverns and petrol stations of the Norwich Inner Ring Road like a shade through the underworld. If this film had materialized in 2003, when a cinematic Partridge was first mooted, it might easily have hinged on the DJ having a Network-style meltdown, the culmination of months spent living in a €˜static home€™ and recovering from a hefty Toblerone addiction. Here, in the age of happy Alan, it€™s grieving sad sack Pat Farrell who goes all Peter Finch with a shotgun. Presenter of North Norfolk Digital€™s fogeyish €˜sleepy time€™ slot, Pat (a dead-straight Colm Meaney) is fired when the channel sells out to a soulless corporate entity and rebrands itself Shape. He retaliates by turning the launch party into a hostage situation, and, as chief negotiator, Alan is thrust into the ring of a media circus that promises to turn him into a broadcasting hero.
The ensuing farce is as brilliantly entertaining as you€™d expect, with director Declan Lowney deftly balancing the tension of the siege against Coogan€™s dense, machine-gun patter of instant-classic Partridgeisms. These encompass everything from a cow€™s cervix and Jesus Christ 2.0 to Banged Up Abroad and the price of yesterday€™s meat, and Coogan succeeds in dressing up the jokes as an uber-naturalistic stream of consciousness. It€™s a magnificent performance that eschews the flakey-skin makeup and comb-over wigs of previous outings and mixes in traces of the €˜Steve Coogan€™ character from Michael Winterbottom€™s The Trip and other meta-comedies. As a result, Coogan (now 47 to Partridge€™s 55) appears to merge with his monstrous creation like never before, toning down the middle-England caricature and unearthing the pathos of a middle-aged €˜wacky bloke€™ whose life hasn€™t turned out quite the way he thought it would. Although riotously knockabout in places, Alpha Papa is careful to catch the undertow of melancholy that runs through all of Coogan€™s best work. There are some gorgeously bleak panoramas of the Norfolk coastline and Cromer€™s Victorian pier, the final destination of a low-speed car chase set to hand-clapping pop classic €˜You€™re the Voice€™ by John Farnham. As in the BBC TV series, tracks culled from Alan€™s radio playlist are often used to excellent and unexpected effect: €˜Wichita Lineman€™ underscores a nicely poignant exchange between Pat and Alan, while the big showstopper comes courtesy of Willie Nelson (sort of).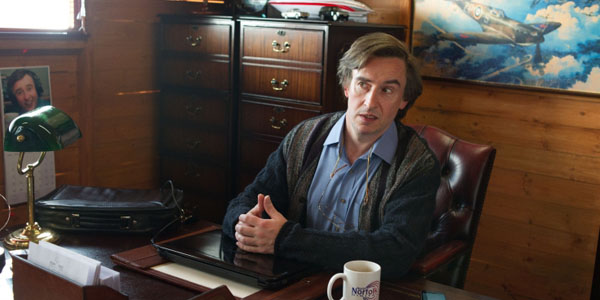 Inevitably, this is Coogan€™s show, and the writers (Coogan, Armando Iannucci, Peter Baynham and Neil and Rob Gibbons) know to keep scenes that don€™t feature Alan to a minimum. Lowney nevertheless surrounds his star with a crack team of comic actors. It€™s a particular joy to see Felicity Montagu reprise the role of Lynn, Alan€™s saintly dogsbody, whose ever-so-slightly warped relationship with her boss becomes the motor of our hero€™s semi-redemption. Although Alan gets to enjoy an office romance with the compellingly strange Angela (Monica Dolan), it€™s suggested that, very deep down, he€™s actually in love with the woman he pays to pick up his athlete€™s foot powder from the chemist. The best thing about Alpha Papa is that it's really, properly funny. An Alan Partridge film was never going to be rubbish, but the ersatz DJ's first taste of movie stardom exceeds all expectations as a comedy. With only one bum note (literally, during a gratuitous trouser-dropping routine), the finished product manages to retain the nuanced, downbeat minutiae of Coogan€™s sitcom grotesque while at the same time reinventing him as a convincing big-screen anti-hero. It€™s a triumph for both Coogan and Partridge, who, after all these years, has finally succeeded in having that last laugh.
Alan Partridge: Alpha Papa is released in the UK on 7th August
Create Content and Get Paid
---