Batman: Karen Gillan Wants To Play The Joker
Is it time for a female Mr J?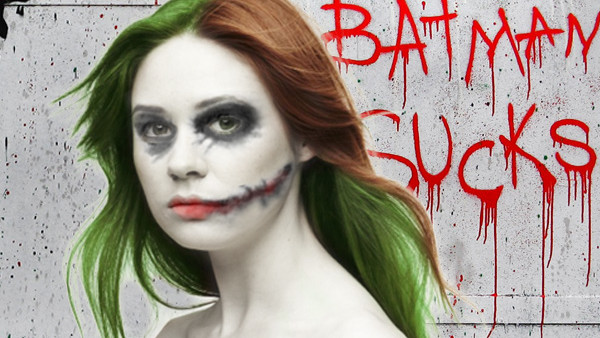 After Jared Leto's divisive (at best) performance as the Joker was awfully cut from Suicide Squad (turning him into a love-struck lapdog that made precisely no sense and was no more than a distraction from the main plot), you could be forgiven for thinking it wasn't time to maybe consider recasting the character for future Batman movies.
As it is, there are rumours of a Joker/Harley Quinn spin-off so it might not be the end of Leto's Joker, even with huge creative changes a the top for DC's shared movie universe.
Still, it's fun to speculate who could be the next actor to play the iconic character, and a surprising candidate has thrown their hat into the ring for consideration. Appearing at Florida SuperCon a few weeks ago, Guardians Of The Galaxy star Karen Gillan was asked which character from any other fandom other than the MCU she'd like to play and her answer was delightful:
"Oh, can I say something DC? Okay, I'm going to say something DC, and I'm going to play the Joker. Maybe a female Joker."
It would definitely be a good time to gender-swap the Joker, and Gillan would be an interesting option, even if her Marvel contract presumably makes it difficult. She's definitely game though...
"This is my calling! Somebody make a call for me and let them know I'm available."
There has been a female Joker before, when Martha Wayne took over the title in 2011's Flashpoint - as Thomas Wayne became Batman when Bruce was murdered in place of his parents. Given that Flashpoint will be the central focus of the Flash movie, there's a distinct possibility we could see an alternate timeline Joker after all.
Hopefully Warner Bros will heed Gillan's call for consideration.