Batman: Return Of The Caped Crusaders - Review
Yes, it really is much better than Batman v Superman.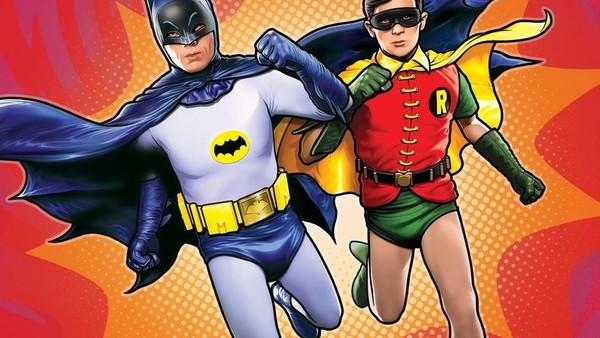 There are few things on this earth that can instil such nostalgic bedazzlement in a nerd's heart than sixties-era Batman. The whams, the pows, the biffs - all of it harkens back to a show that pretty much kick-started the world's love affair with the pointy-eared vigilante. Though our contemporary image of the Dark Knight may have ultimately shifted into a darker, more cynical take on the world of capes, cowls, and costumed supervillains, 'The Return of the Caped Crusaders' illustrates quite perfectly why, today, there's still a place for a more irreverent, light hearted take on Batman. Especially when, you know, it's more authentic; unlike Batfleck, you won't find this Dark Knight busting caps and taking names. (though the film does offer hilarious critique of the character's now farcical obsession with brooding on secluded rooftops, sans Boy Wonder)
The film, the latest in a long line of 'Animated Original Movies' from Warner Bros., takes the Bat-family back to the swinging sixties to stop The Joker, Riddler, Penguin and Catwoman from, well... it's complicated. The plot's certainly spectacular though, and I can't thank it enough for providing such a fantastic excuse to resurrect sixties Batman for a new generation to delight in.
Adam West, far from being a lampoon-worthy captain of camp, is by far one of the most reverent and authentic Dark Knights to have ever graced the screens, and it shows. Fifty years on from his debut as Bob Kane and Bill Finger's seminal superhero, West is still just as charming, humorous, and warm as ever. Burt Ward - perhaps the most iconic of all Boy Wonders - slips effortlessly back into the role as Batman's loyal sidekick as well, responding with glee and ample naivety to the taunts, puns and gibes touted by Gotham's most sinister band of villains.
And of course, the villains themselves are wonderful. Though Frank Gorshin, Cesar Romero and Burgess Meredith may all be long gone, voice actors Wally Wingert, Jeff Bergman, and William Salyers all offer admirable imitations of the three actors' signature styles as The Riddler, Joker, and Penguin respectively. Julie Newmar is by far the most notable to lend her voice talents to the fearsome four however, reprising her role as Catwoman that, whilst totally fantastic to experience, adds a dissonant quality to 'The Caped Crusaders' proceedings, in that she isn't quite as good as masking her age as her other, OG cast counterparts.
The film also tends to overstep its bounds at some points, often feeling like a hyperbolic impression of the sixties show instead of a straight-up continuation of the source material. That said, the lack of a live action element and the transition to animation has allowed West's Batman to grow more bombastic, brilliant, and more brazenly silly than ever before. I wouldn't be surprised if some jokes proved to be jarring to the more well-versed appreciators of sixties Batman, but criticisms of the flick end there. By the time it's over, I've little doubt you'll be reaching for some brooding-bat repellent spray to keep even the surliest of Caped Crusaders at bay.
Well, that and looking forward to the sequel, which is gunning for none other than Bill Shatner for the role of Two-Face. Guess we can start setting our phasers to pun?
-
Batman: Return of the Caped Crusaders released on DVD, Blu-Ray and digital download November 1st. You should probably check it out.