Bill Hader & James McAvoy Set For IT: Chapter 2
They'll float too.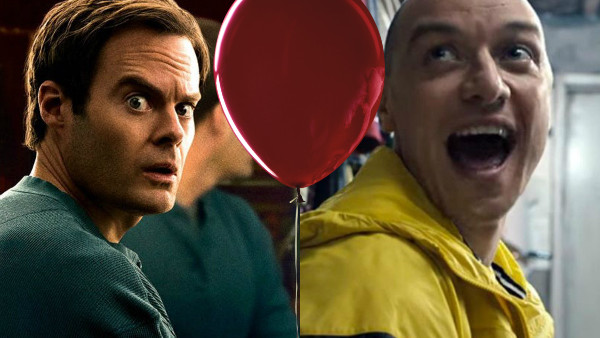 With filming set to begin this summer, It: Chapter 2 is starting to take shape. Director Andy Muschietti is returning, as is writer Gary Dauberman, and now the cast is being fleshed-out.
Even before the first movie was a hit, there was talk of its sequel and who would be cast as the adult members of the Losers' Club. In a case of fan-casting become reality, Jessica Chastain is set to play Beverly Marsh, and now the movie may have found its Bill Denbrough and Richie Tozier.
According to Variety, James McAvoy and Bill Hader are in talks for those roles, respectively, which were played by Jaeden Lieberher and Finn Wolfhard first time around.
The casting of Hader, who has proved both is dramatic and comedic chops through the likes of The Skeleton Twins, SNL, and most recently HBO's Barry, is pretty much ideal for the foul-mouthed prankster Richie. McAvoy is a more intriguing prospect for the group's leader Bill, who grows up to be a writer but never quite puts the past behind him, but given his talent also an enticing one.
The story takes place 27-years after the events of the first film, which means it'll shift up much closer to the present day, and sees the scattered members of the club all returning to Derry to face Pennywise once more. We will still see the kids in flashbacks too and, of course, Bill Skarsgard is returning as the titular monster.
IT: Chapter 2 will be released on September 6, 2019.
What do you think of the casting choices? Let us know down in the comments.