Bohemian Rhapsody Trailer 2 Reaction: 4 Ups & 1 Down
Fearless lives forever.
The first trailer for Bohemian Rhapsody sent shivers down our spines when it dropped back in May. Two months later and 20th Century Fox has released yet another look at the Freddie Mercury biopic and, by God, it's even better than the first.
We all had our reservations about the upcoming film due to the issues surrounding its production, such as Sacha Baron Cohen's involvement and subsequent drop-out, and the questions surrounding Bryan Singer's connection in the project. But the earlier trailer put our minds at ease, reinforcing that, in spite of being stuck in development hell for years, Bohemian Rhapsody will be worth the wait.
The second trailer heavily uses Queen's music, splicing several of the rock band's biggest hits together to go hand-in-hand with a goosebump-inducing montage. From what we can see, Rami Malek is eerily accurate in his portrayal of Mercury, which further reinforces that the Mr. Robot actor is the perfect man to play the music icon. We also get a closer look at other actors in action such as Gwilym Lee and Ben Hardy. If you weren't excited about Bohemian Rhapsody before now, then you will be after you watch the trailer.
So how did it go down? Here's the negatives...
Downs...
1. The Seemingly CGI Audience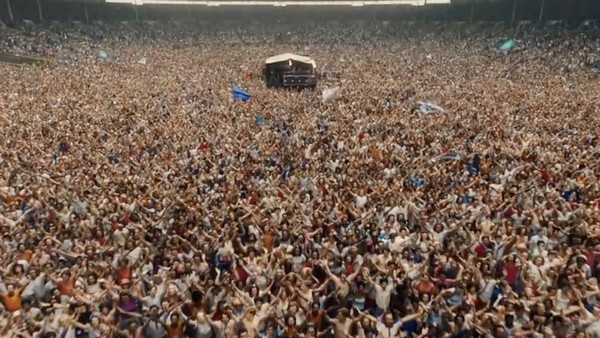 The second trailer for Bohemian Rhapsody is damn near-perfect, and has further increased our desire to go and see the movie (if that was even possible) when it's released, but there is one thing in the short preview that stood out for the wrong reasons. As Mercury plays for a large audience (which is presumably the singer's Live Aid performance), we're treated to a moving shot of the audience clapping along to the Queen track. What should've been an iconic moment is soured by the use of CGI to recreate the concert-goers.
No one is saying that employing CGI is a bad thing, but when it's the first thing you notice about the scene, it takes viewers out of the moment, which surely defeats the purpose of the scene in the first place. It's not a massive problem, and there's always the off-chance that the final product will look more convincing when filters are added or effects are re-rendered.
And now onto the positives...