Borat 2 Has Already Screened!
The mid-aughties are back, and with a vengeance.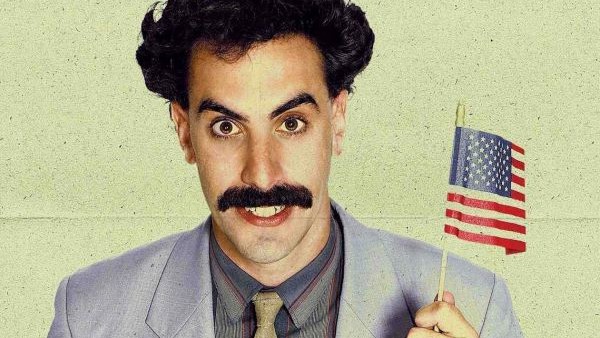 English comedian and general agent provocateur Sacha Baron Cohen has shot a sequel to his iconic 2006 film Borat, in secret. And what's more, according to an article by Collider, he's already screened it (also in secret).
Little is known about the film's plot, other than that a central conceit is that Cohen is not in fact playing the hapless and bigoted Kazakh reporter we all knew and loved, but rather playing "Cohen playing Borat playing Cohen". Confused yet? Apparently so is Collider, who stated that that very description was later refuted by another source who also confirmed the film's existence.
Likewise, it's unclear who financed the film and how long it's been in production, nor who is directing or producing it. Given the secretive, pseudo-documentary nature of much of Cohen's work, it's likely that these details won't be revealed until an official announcement from the filmmaker himself. Rumors of a sequel first began earlier this year when Cohen was spotted in Los Angeles filming while in the Borat costume, being caught on-camera in the process.
Though Cohen stated he intended to retire the character due to him being too recognizable to realistically fool people, he has occasionally revived him for publicity purposes, including an appearence on Jimmy Kimmel Live! promoting his 2015 film Grimsby.
Borat: Cultural Learnings of America for Make Benefit Glorious Nation of Kazakhstan was released in 2006. The satirical pseudo-documentary, directed by Larry Charles and produced by and starring Cohen as the titular character, featured him and several other actors in a variety of unscripted situations, in which a large part of the humor arises from real people's reactions and interactions with the character.
Like much of Cohen's work, Borat was heavily political in nature, with the satire driven in large part by Americans' ignorance of other cultures and own biases and prejudices drawn out by the absurdist character. The film, though controversial, was a critical and financial success. It was nominated for an Academy Award for Best Adapted Screenplay, and a Golden Globe Award for Best Motion Picture – Musical or Comedy.
Create Content and Get Paid
---