Dawn Of The Planet Of The Apes First Image Revealed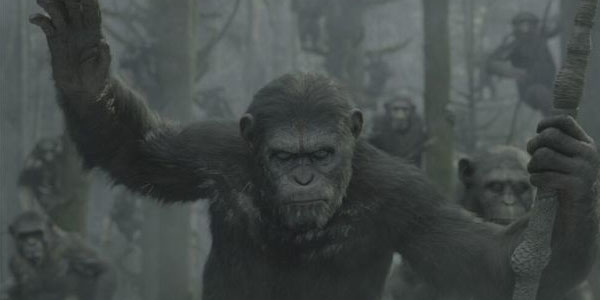 20th Century Fox has revealed the first official image from next summer's Dawn Of The Planet Of The Apes. The image (above) features an angry Caesar and his friends in the woods as an all out war with the humans looks to be brewing. At the Comic Con panel, Fox that the idea with this sequel is to transition the universe into the era of the 1974 Charlton Heston starring original, though I expect there'll fit a third movie in featuring nuclear war and the destruction of humanity. Caesar's role in the movie is as the leader of an Ape-based society who now has a wife and a baby. The movie will follow the uneasy relationship between humans and apes and the struggle for both communities to survive with the existence of each other.
Coming Soon
have a run-down of some footage that was shown, though it was stressed that they came without many of the ape shots that will be in the final film because a lot of the FX work still needs to be done (it's 10-12 week post-production work for a single ape). It was also shown in 3D;
We see the ruins of humanity. It's eight years later. Four years spent fighting the virus and four years spent "fighting each other". Clarke's character, dressed almost in a Dark Tower Gunfighter-style costume steps through the Redwood Forest He shouts out that he wants to speak with Casear. We pull back from Caesar. He looks much older with grey hairs. Behind him is an army of apes.
Directed by Matt Reeves (Let Me In) from a script by the last film's writers Amanda Silver and Rick Jaffa, along with Scott Z. Burns (Contagion) and Mark Bomback (The Wolverine, Live Free Or Die Hard), the movie once again follows Andy Serkis' amazing motion-cap work as our lead character. There's no James Franco or Frieda Pinto this time, instead the human cast is made up of Jason Clarke, Gary Oldman, Keri Russell, Toby Kebbell, Kodi Smit-McPhee, Enrique Murciano, Kirk Acevedo, Jocko Sims, and Judy Greer. Dawn of the Planet of the Apes will open on July 18, 2014
Want to write about gary-oldman, Andy-Serkis, Matt-Reeves, keri-russell, Kodi Smit-McPhee, Toby Kebbell, Jason Clarke, Judy Greer, Dawn Of The Planet Of The Apes, Enrique Murciano, Kirk Acevedo and Jocko Sims? Get started below...
Create Content and Get Paid
---
Matt Holmes
Matt Holmes is the co-founder of What Culture, formerly known as Obsessed With Film. He has been blogging about pop culture and entertainment since 2006 and has written over 10,000 articles.
See more from Matt