Etan Cohen To Rewrite Ghostbusters 3
But can he convince Bill Murray to wear the proton pack once again?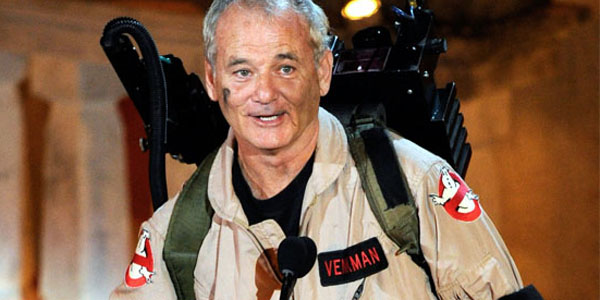 Sony are still trying in vain with Ghostbusters 3. After Bill Murray finally got around recently to reading The US Office writers Lee Eisenberg and Gene Stupnitsky's script for a proposed decades later threequel recently and basically informed them he had shredded their efforts, comes news that the studio have hired Tropic Thunder and one of the many Men in Black 3 writers Etan Cohen to take a stab at pleasing Murray.
Coming Soon
reports that it's now Cohen's job to somehow deliver a script that will please picky Murray into donning that costume once again. Murray has about as much interest in appearing in another Ghostbusters movie as we have a trip to the dentist and he's made enough money and gets enough well-paid regular work that he isn't under any pressure to reprise his most memorable screen role. Dan Ayrkroyd, Harold Ramis and director/producer Ivan Reitman all want Ghostbusters 3 to happen but Sony will only go ahead with Murray at this point (feeling, quite rightly, he's the star attraction) and without him they aren't interested. In an ideal world Sony would probably want to give the saga a full remake/reboot, figuring after two decades since Ghostbusters II was released that the time is right for a new cast to take on the proton packs but Aykroyd has a dream that is Ghostbusters 3 and his veto power (Ramis, Reitman & Murray have the same) dictates that it won't happen yet. But to get the movie made Cohen has to find a way of tapping into whatever it is would get Murray's juices flowing, if there is such a thing. Ghostbusters 3 is said to be a "passing of the torch" movie that Murray's screen time could be minimal with anyway. Aykroyd said recently;
"My character, Ray, is now blind in one eye and can't drive the cadillac," he said, "He's got a bad knee and can't carry the packs... Egon is too large to get into the harness. We need young blood and that's the promise. We're gonna hand it to a new generation."
We need more writers about Bill-Murray, Ghostbusters 3 and Etan Cohen! Get started below...
Create Content and Get Paid
---
Matt Holmes
Matt Holmes is the co-founder of What Culture, formerly known as Obsessed With Film. He has been blogging about pop culture and entertainment since 2006 and has written over 10,000 articles.
See more from Matt