Ex Machina And Bridge Of Spies Are Big Winners In The BAFTA Nominations
But the Best Picture fight is down to the usual suspects.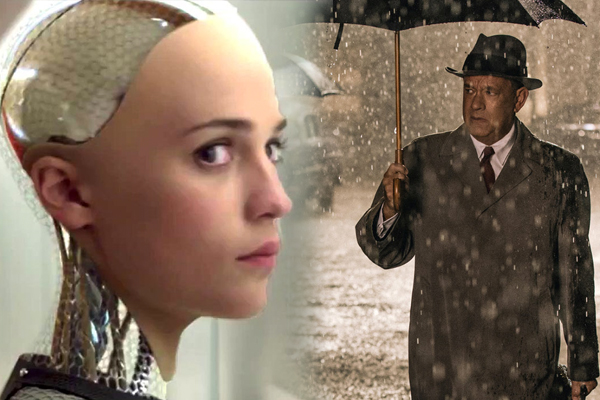 I always find the BAFTAs to be one of the more, for lack of a better word, accurate awards ceremonies - there's a level head to the nominations and winners that (to a degree) bucks their publicity driven American counterparts. And, despite the requisite fawning over very-British The Danish Girl (Tom Hooper's dreary prestige picture picked up six noms), this year's nominations, which were announced this morning at BAFTA HQ (the swankiest reading of a list I've ever been to), only serve to prove that. The big shock winner was Bridge Of Spies - there's only been muted hype for Steven Spielberg's Cold War palm-sweater, but here it picked up nine nominations (including Picture, Director and Supporting Actor), tying it with Carol for most noms. The other surprise was Ex Machina, earning deserved nods for Supporting Actress (Alicia Vikander) and Original Screenplay to get five nominations in total (not bad for a film that was first released almost a year ago). If either of these films, which both placed on
my Best Of 2015 list
can win some of these awards, I'll be very happy on 14th February. It's not all good stuff though - quite a few big movies were overlooked, most notably Sylvester Stallone for Creed (his best performance since the original Rocky), while several movies that got a sizeable catch of nominations didn't fare so well in the bigger categories (Mad Max: Fury Road and Brooklyn both missed out on Director and Picture). Instead, the big prize looks to be circled by Spotlight, Carol and The Revenant, but, as has become expected from this year's race, it's too hard to call who'll win out (I'd guess Carol). Of course, being the British Academy and one of the last ceremonies before that night in the Dolby theatre, the BAFTAs always serve as something of an Oscar prediction. The big things to learn here was that The Big Short is slowly emerging as a favourite and that big blockbusters like Mad Max: Fury Road and Star Wars: The Force Awakens are struggling to make it out of the technical categories, possibly in favour of more the artsy sci-fi of Ex Machina. Will success here for Alex Garland's A.I. thriller and Bridge Of Spies lead to a taste of Oscar glory? We'll find out when those nominations are announced next week. Check out the full list of nominees on the next page and let us know what you make of them down in the comments.
Alex Leadbeater
Film Editor (2014-2016). Loves The Usual Suspects. Hates Transformers 2. Everything else lies somewhere in the middle. Once met the Chuckle Brothers.
See more from Alex