Exclusive Interview: Marcus Hearn On Dracula Blu-ray Release & The History of Hammer
Hammer have pleased Horror fans and B-cinema lovers everywhere by releasing their classic horror library on Blu-Ray. This massive global restoration project was a major financial undertaking for Hammer and its partner, Studio Canal. After a horde of such releases, the 1958 classic Dracula has been dutifully restored on this beautiful format, and
is set for release March 18th, 2013
. In addition to this title, Hammer also expects to roll out a few more titles later this year. This restoration will also include unearthed footage and restored deleted footage, including a more graphic and gory version of Dracula formally deemed "too erotic" by censors of the era. Marcus Hearn, expert historian and author of
The Hammer Vault
and who was heavily involved with this process, was kind enough to give up his time to briefly touch on his personal history with Hammer, the new generation of Hammer films, the actually restoring Dracula, and a discussion of the "never before released in the UK" erotic sequences.
Hi Marcus, thanks for speaking to me. First, what drew you to work with Hammer?
It was a job, really. I have always loved the films when I was a teenager. After working for Marvel in my 20's, my editor Paul Neary (who had worked on the original Hammer magazine, called House of Hammer) had the idea that there would be space for a new Hammer magazine. I was switched from working on the Doctor Who magazine to Hammer. Through this move I got to know the company very well and over the years I became more and more fascinated with their history, and what was in their archives. And to cut a long story short I am still here 20 years later as the company's historian.
Let's talk about the Hammer Vault book that spans from the 1930s to today. What was it like to travel through the lengthy collection within the Hammer vault?
In a way, that was like the last twenty years that I've spend rummaging through the archives, trying to catalogue the items to try and piece together the company's history over that long period. The Hammer Vault is the pictorial journal of that journey. It does make one realise that Hammer has been a part of the film making landscape for nearly 80 years, which is an incredible achievement. And certainly for a company out of the UK, it is remarkable. The company is still in great shape now. That is the best part of the whole story.
What is your personal favourite from the Hammer library, and why?
I have always been fond of Quatermass 2, which we are hoping to restore later this year. I have always loved that film so much, especially as a teenager. It's a real Hammer film. My favourite Gothic Horror film however is the Brides of Dracula. Although, I love them all. It is hard for me to be subjective about Hammer because I can find something to like in all their films, even the bad ones. I guess that is the definition of being a fan; I am still a fan at the end of the day.
What is your opinion on the new generation of Hammer films such as Let Me In and the Woman In Black?
I thought they were both outstanding. They were both unlike anything Hammer had ever made before; but at the same time no part of them betrayed anything that came before. Woman in Black was especially unusual because Hammer had never really made a ghost story before and yet everything was still very Hammer-esque. It clearly kept a modern audience very happy, but it didn't upset any fans of the traditional films either. This was a difficult feature to pull off. It's a bit like Dr. Who. Dr. Who has been with us since 2005, and the modern episodes don't have anything to do with the older ones. And yet fans of the original series love them, as does a new audience. I have not met any Hammer enthusiast who don't like the Woman In Black, or who don't like Let Me In and yet they can still like Brides of Dracula or Curse of the Werewolf.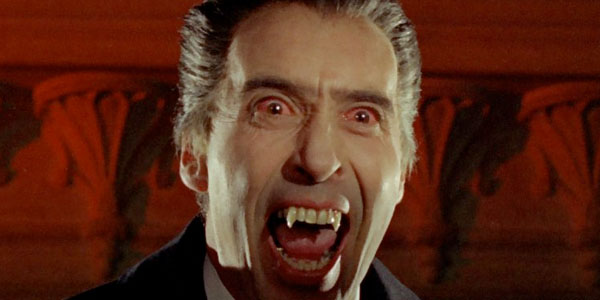 Speaking of a new generation... Hammer is re-releasing Dracula on Blu-Ray. How did the re-release of Dracula come about?
The material for the extended cut did come from Japan, but I think that it is a mistake to refer to it as a "Japanese cut", which some people like doing. What actually happened was Hammer made the original version of the film then submitted it to the British Film Board. They then cut it, radically. So rather than discarding that completely Hammer exported that original cut of the film to Japan, where there was much more relaxed censorship. The idea that Hammer created a version for Japan is a myth; it is a myth created by Hammer themselves in the 1950s, but it is still a myth. So what we are seeing now is the closest thing that we can get to the original version of film.
What was it like trying to amass all of that material for the new version?
It was difficult. Many people have tried to find these missing scenes before, and had failed. This included the British Film Institute for their restoration in 2007, and even they did not succeed. We were successful thanks to the efforts of Hammer fan called Simon Rowson, who lives in Tokyo. He actually rediscovered all this material in Tokyo's National Film Centre in vaults. This allowed us to scan it, return it to London and integrated it into the film. We've worked hard over the past year to reverse engineer the original cut of the film; to create the original that was signed off by Hammer in 1958, before the British censors took their scissors to it. It's been difficult. It's been challenging, but ultimately it has been a privilege. This is because Dracula is not only the most important Hammer film ever made, it is also one of the most important Horror film ever made. It is also one of the most important British films ever made. http://youtu.be/MDTxHg7wyP0
What can Hammer fans expect from this new release?
There are two sequences that are going to appear radically different to people who are familiar with Dracula. We are going to see a different version of Dracula's seduction of Mina. This was never seen outside of Japan. It is much longer, and much more erotically charged. The scene that most people are excited about however is the scene at the end. We are going to see a longer and gorier version of Dracula's disintegration. When Van Helsing pulls down the curtain to draw sunlight onto Dracula. In this version, Dracula tears the flesh from his own face and you can also see the skeletal leg and arms of Dracula. It is a much more erotic and it is a long gorier. The two key elements of Hammer Horror are sex and death. And I think that this cut of Dracula gives you both.
One final question, in 2013 how do you think this is going to be received?
The reaction that we have already received is incredible. People are being very positive about it, because it is such an important film. These two scenes are crucial to what the director, Terence Fisher and the team set out to achieve. Dracula was also a film about sex and death. It is this film were the Hammer formula was perfected with the introduction of sex. It is no conscience that the poster for Dracula says, "The terrifying lover who died - yet lived" and to be able to reinstate that erotic charge to that film makes it complete. Hammer should be congratulated for committing the time and the considerable money to restoring their archives in this way. It is a part of our cultural legacy.
Hammer Films and Lionsgate have announced release date for the Dracula on
Blu-Ray will be released March
18th, 2013.
Create Content and Get Paid
---