The Expendables 3 Posters Are The Cheesiest Things You'll See All Day
Hollywood's toughest actors looking goofier than your high school yearbook portrait.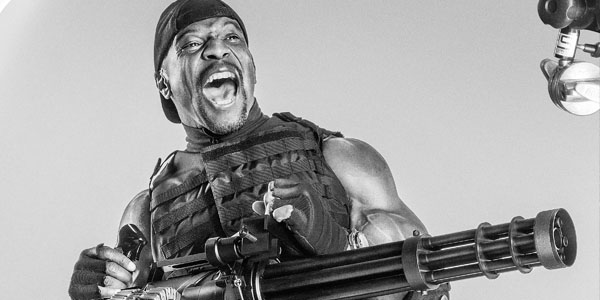 Hot on the heels of the trailer reveal for this summer's The Expendables 3 comes 16 character posters featuring the ever expanding roll-call of action greats. And, well, they are without doubt the cheesiest things you will see all-day. See Sylvester Stallone, Jason Statham, Jet Li, Dolph Lundgren, Randy Couture, Mel Gibson, Terry Crews, Arnold Schwarzenegger, Wesley Snipes, Antonio Banderas, Kelsey Grammar, Harrison Ford, Kellan Lutz, Ronda Rousey, Victor Ortiz, and Glen Powell looking goofier than your high school yearbook portrait...
Judging from the cast and the blink-and-you-might-miss an explosion trailer, Stallone isn't planning on breaking new ground with the third entry in his outlandish franchise. If it ain't broke, don't fix it. Though maybe add a train sequence to raise the stakes. Patrick Hughes, director of the 2010 movie Red Hill, helms The Expendables 3 which is due to arrive in cinemas this August. The movie is being teased as "one last ride" for the series but if The Expendables 3 opens to the $85 million domestic the last movie did and comes close to matching its $300 million worldwide, then The Expendables 4 will be announced quicker than you can say "machismo". What's your thoughts on The Expendables 3? Are you excited for another movie or have you had enough of this ageing franchise?
Create Content and Get Paid
---