Fast & Furious 8: First Look At Charlize Theron's Gun-Toting Rock Chick
Metallica have never been so Hollywood...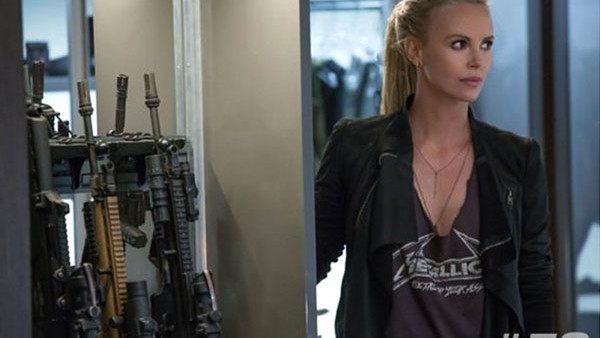 More like Fast & Furiosa, right?
Just a couple of days after The Rock promised that his role in Fast & Furious 8 was going to shake things up, Universal Pictures have released the first look at Charlize Theron's villain Cipher.
She might not look like your typical action movie villain, but having an actor of Theron's quality come in to the eighth instalment in any franchise is pretty stunning.
After their X-Men: Apocalypse audio cameo, thrash metal gods Metallica continue their Hollywood invasion too, emblazoned on her t-shirt. That spells bad-ass immediately, just in case you missed the locker full of gigantic guns.
The forthcoming sequel is directed by F. Gary Gray and is currently filming on location in Cuba. The Fast 7 cast are mostly all back (including Jason Statham's Deckard Shaw), while Eva Mendes is rumoured to return, with Kurt Russell, Scott Eastwood and Game Of Thrones' Kristofer Hivju all joining the ever growing cast.
Try not being excited. It's basically impossible.
Fast 8 or #F8 as the social media is calling it is set to screens in April 2017.