Film Theory: New Bond Villain Is SECRETLY Dr No
Want to know how he got those scars?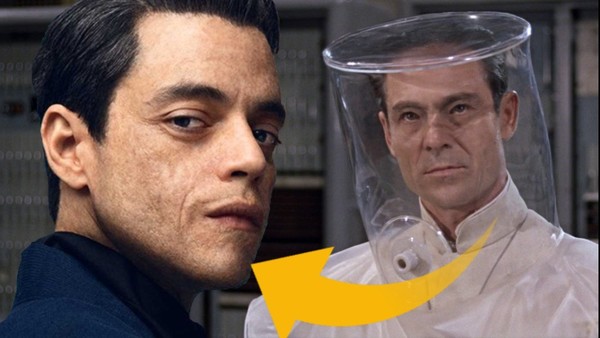 James Bond is the ultimate marriage of old and new. Even after Casino Royale reinvented the franchise for the post-Bourne movie-watching world, the new blonde bombshell 007 leaned on nostalgia and familiarity. You fundamentally cannot make Bond, after all, without ticking certain boxes: there has to be a gun barrel sequence, there has to be gadgets, an Aston Martin of some sort and the same group of characters. An M, a Q, a Moneypenny...
More recently, Bond films have looked more overtly into the past, inspired by Skyfall's focus on Bond's own personal history and the result in Spectre was a sort of character remake that re-introduced Blofeld - 007's most famous villain - for the new generation. Sort of like how Star Trek did Khan a second time.
And it might not have ended there. While we've not seen other iconic villains like Oddjob and Jaws reborn, it looks like the next chapter in Bond's long story might have another similarly famous villain hidden in plain sight. Dr No.
He might have another name and be played by a different actor, but there's a compelling suggestion that Rami Malek's new masked bad guy is one and the same as the original Bond villain.
Let's break it down...
7. The Simple Things
First off, this is not just a theory based in aesthetics, even if the two Dr No actors look similar, there's more substance to it than that. But even at that sort of surface level, there's a hint in the title - swapping the way you pronounce the title changes the meaning. It's not merely No Time To Die, it's "No" Time To Die. The No isn't a qualification, but the subject. It's No's time to die. Because No is a person.
Tenuous? Perhaps, but we wouldn't be here if it was as simple as that. Nor is it as simple as the fact that both Dr No and Malek's new villain seem to both have a fondness for kimono style outfits. That could just be a coincidence based on the fact that Bond villains have sort of a thing for dressing ostentatiously.
This new one, after all, seems to have an opulent lair and a penchant for the theatrical, given his adoption of a white porcelain mask to add to his mystique. That sort of sartorial quirkiness puts him in line with EVERY Bond villain and not just No. But add that, the look of the actors AND the title together and it's starting to take shape.
And then there's the more substantial things...