First Look At Kristen Wiig In Her Whacked-Out Zoolander 2 Costume
Bridesmaids actress is almost unrecognisable in first set photos.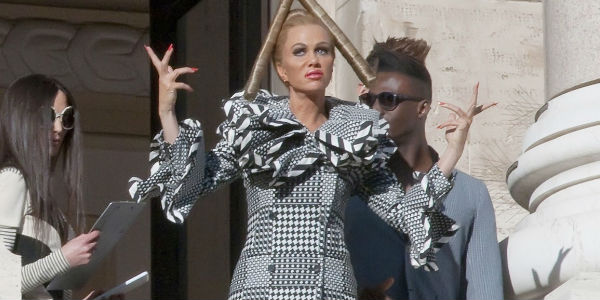 Production on the second Zoolander movie is well underway at Rome's historic, majestic Cinecittà Studios, where the veil of secrecy has been pretty well-closed so far. There's not even been any confirmation of out earlier scoop about Zoolander's son - though wait for it, it is coming. These new paparazzi pictures from the set show Kristen Wiig in a remarkable combination of clothes, make-up and hair. As the yellow border attests, they were first published at
Just Jared
.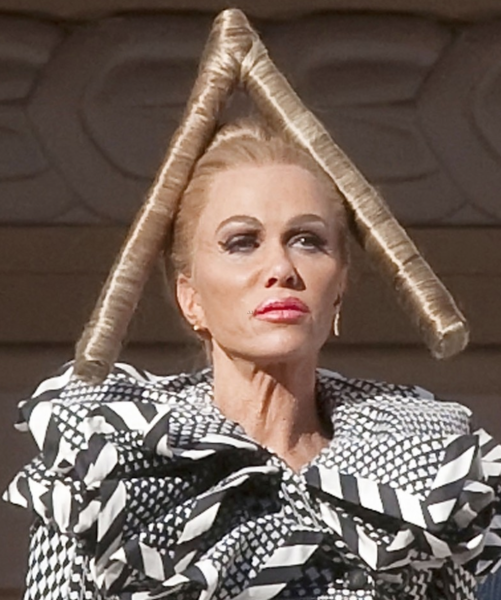 We understand that Wiig has a fairly big role in the film - she's not one of the leads, but it isn't just a cameo, with a comparable amount of script pages to, say, Penelope Cruz's part. What Wiig is doing, I don't know - one of Mugato's lot, I'd guess, but it's just a guess. I can say that Cruz's character runs an orphanage and takes a liking to Derek Zoolander. Set for more rather screentime are Derek and Hansel, of course, as well as Will Ferrell as Mugato, Christine Taylor as Matilda, and whoever they've cast as Zoolander's son. At least, that's how it is on the page. These things can change drastically in the edit. Zoolander 2 is set for release in both the US and UK on February 12th, 2016.