Gravity: Interview With 3D Post-Conversion Company Prime Focus
3D is far from defunct, judging by the critical and commercial reception of Gravity so far. In three-and-a-half weeks it has grossed over $360 million worldwide, and with a domestic haul nearing $200 million, it's now one the top 10 highest-grossing movies of the year. A lot of the praise for Alfonso Cuarón's latest is down to the spectacular conversion job done by Prime Focus London on. James Cameron has called it the "best 3D conversion ever". When 3D is considered as part of the storytelling process, and not just an afterthought to charge audiences extra, it can be as important a decision in the production of the film as casting or script. And 'Gravity' is a game-changer on every level. It was without doubt the most detailed and sophisticated shoot that Prime Focus World has completed to date, including what must be the longest converted shot ever €" 15,531 frames, which is over 10 minutes and 47 seconds. We all know how much Cuarón is patial to his long, single-take shots... handling a 15,500 frame shot is something that no other conversion house has done before. Gravity has two star leads in Sandra Bullock and George Clooney, and in terms of the stereo, their look and the sculpting of the depth had to be perfect €" the viewer's eyes are concentrated on their faces for so much of the film. This required a level of production management not usually associated with a post-conversion. Matthew Bristowe (SVP Production, View-D & VFX) and Richard Baker (Stereographer & Visual Effects Supervisor), co-founders of Prime Focus London, both worked on the post-conversion of Gravity, and were kind enough to discuss the process behind it all, as well as the state of the Visual effects industry, and the challenges of adapting for IMAX screens, and evoking emotion in Sandra Bullock's face...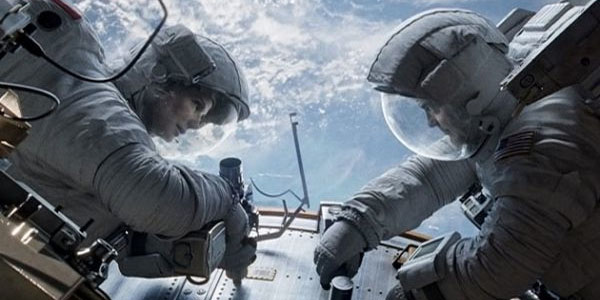 Congratulations on the success of Gravity so far- I believe that 80% of tickets for the domestic opening weekend tickets were 3D!Matt:
That's a compliment, really- obviously it's great for the film and it's great for us... For the last years people have been discussing 3D- "Is it good? Is it bad? Will it go away?", but finally we've got a film where 3D is an integral part of the film and it's something that people will specifically want to go and see.
Can you talk us through the 3D Conversion process for Gravity in the simplest terms?Richard:
Because we were involved so early , we were able to get involved in working out how we were going to approach these shots. Traditionally our process is rotoscope-based, on this project we were able to use a hybrid approach of Geometry and Roto to utilise the assets available to us- the capsule, the cyberscan of Sandra , that sort of stuff... We went the edit, looked at all the shots, sat down with the stereo supervisor and worked out a brief for each shot and how we were going to approach that. The difference to other projects that are converted is that instead of just coming in at the end, we started this project over 2 years ago! We were working simultaneously with Framestore, sharing assets. It was a very different project for us in terms of how the conversion worked, but from the process side it was a real combination of Rotoscope, Geometry and Cyberscans consistency and accuracy.
Who was more interesting or challenging to work on, George Clooney or Sandra Bullock?Matt:
I would've said Sandra, wouldn't you?
Richard:
Yeah, primarily because she was a lot more- because you're lingering on Sandra's face, really close on her face. There were a lot of long shots with her- overall the conversion was of a standard we'd never seen before and that was down to the detail in her body, and particularly in her face. And George... when he came through the capsule window in the dream sequence, that was a ten minute shot, and was probably our most challenging. But there were so many close-ups of Sandra's face and you want to capture that and convey the right emotions, working alongside what Alfonso had as a vision for each scene.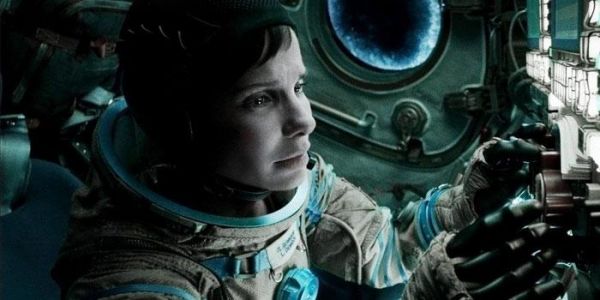 What was Alfonso Cuarón like to collaborate with? Was there a lot of involvement on his part, or did he leave you to perform the tasks needed?Richard:
We first got involved when did a stereo test- and that's very challenging because of the weight of the cameras on the robotic arm, trying to get the stereo rigs into the confined spaces... so they came to us for the test and asked us to convert one of the 'eyes', which we did. Alfonso came in with David Heyman (producer of Gravity and the Harry Potter series) and they thought it looked great. They came in and looked at some more tests shots and were very happy with the process. Alfonso was very much involved from every single aspect- he wasn't there every day; we were doing stuff on a daily basis with (Stereo Supervisor) Chris Parks. But has got a really good eye and he understands the 3D. Most of his notes would relate to emotional feelings.
What is your response to the 3D naysayers, who claim it's no kind of artform, even when it's done properly?Matt:
Gravity's really game-changer. I can't imagine anybody out there still that!
Richard:
I think what this shows , as a 3D film like Avatar and Hugo which have been really thoroughly planned out is that there is a place for them. Of course isn't going to fit every film, just as certain special effects don't suit some films. Some films are better as a Drama, some as Visual Effects films. As with everything in our business, something's got to fit the right environment and the right project. you've got a really well planned-out project, great story, a director that's really on board with... 3D, then the result is on the screen.
Matt:
In the marketing for the film as well, Warner Brothers are selling it as a 3D movie. With most 3D films, you get the tagline "In 2D and 3D", but Gravity is "realised in glorious 3D". That's a pretty confident statement, suggesting it couldn't have been in any other way- it's essential, it
is
the film.
Have there been any stellar examples of 3D Post-Conversion that you've seen or worked on? Based the fact that it's being done so well in some cases, is there any point to shooting in native 3D? Is your method of such hands-on conversion the way forward? Richard:
Looking at the 3D films from the last 5 years, what really stands out... was that there was a big increase in the last 18 months of converted films. Just to be clear, everything in space was rendered in 3D through Framestore, so it was a combination . For some projects, like a Nature programme for TV, native is probably the best route. The budget for post-conversion at the moment suits feature films very well and it simplifies the visual effects process. But there's a place for 2D, for Stereo, and there's a place for converting.
Matt:
I can't think of a single film which is simply shot in Stereo, except perhaps Step Up 3D. All these films shot in Native 3D, like Life of Pi, they're a mixture of post-conversion and stereo-rendered CG. What we're seeing in cinemas is a hybrid or a full conversion, and a very small percentage of films are shot native- and are outside of the top 20 highest-grossing films of all time. When you look at most of the films that are post-converted, the 3D is usually well-received by critics. It shows that Clash of The Titans was only 3 years ago, and now we have Gravity!
What are your thoughts on IMAX as a competitive format in 2D? If you've worked on post-conversion in IMAX 3D, what challenges does that represent? Richard:
On Gravity they've decided to do an IMAX version, so we went back and revisited a lot of the shots we worked on. We did some reductions, bearing in mind the size of the screen it was going to be projected on; we did some tidying up... fine, but maybe on a massive screen like IMAX little things might show up. That was the main consideration... Generally it's about tone something down so that it works on that format.
Matt:
I quite like IMAX- I haven't seen Gravity in IMAX yet, but I want to! But I wouldn't normally go out of my way to see an IMAX movie.
It's an interesting time for the visual effects world in regards to outsourcing- as shown with the treatment of VFX artists on Life of Pi- and the trend of outsourcing for conversion and VFX which can make for a poorer end product. What are your thoughts on this? Has the situation been blown out of proportion?Matt:
This is something we're quite focused on in . We don't outsource at all- We've got facilities all over the world! It's trend that['s] developed over the last 10 years within visual effects, and it's been driven by budgets that companies are now working . , it's been a necessary change. It's difficult when you see the demand for visual effects ever increasing, and it makes it hard for companies to survive. Certainly at the moment, the global process of visual effects- how different cities work, various tax incentives delivered by different places- has changed the landscape. But day to day we're still delivering . Quality's an important thing, and I think people can tell the difference in the final product.
Richard:
A lot of this work is done abroad by companies... in place like Singapore and India. is global and we do 'outsource' to our various . All these big special effects films like Pacific Rim are still done, by ILM in the Far East. A lot of the outsourcing isn't in the mainstream most people think it is. There's some rotoscoping or paintwork done , but you'll find that most of the high-end visual effects are still done by the big companies who have chosen to set up abroad. A lot of my friends are travelling visual effects artists- travelling from to Singapore, to Vancouver, to Weta Digital ... they spend their lives travelling the world and that suits a lot of people!
Do you have any advice for those looking to get into this particular side of the visual effects world as a career? Matt:
We set up the Prime Focus facility in London 3 years ago and built it up to what it is , and we realised Senior Visual Effects were the right people to deliver Stereo conversion. what we've seen... is that it's really difficult for young people, straight out of college, maybe with some training, to break into the visual effects industry. We've provided an entry into the visual effects community. We train them, they work hard and connect. We've seen many people who have started with us go onto really successful careers within Stereo Conversion and Visual Effects. It's really important, and something that we're really proud of, and we'll continue to .
Richard:
There's two different ways - become a runner for a company straight out of university, or work hard and get stuck into it. You could walk straight in and move up to a supervisor within 10 years. If you've got the talent and the motivation... it's a great business for that.
Gravity is in cinemas in 3D, 2D and IMAX from Friday, November 8.
You can read our review of Gravity
HERE
.