Harry Potter: Ian McKellen Reveals Why He Turned Down Role Of Dumbledore
"YOU SHALL NOT PASS... Your O.W.L.S."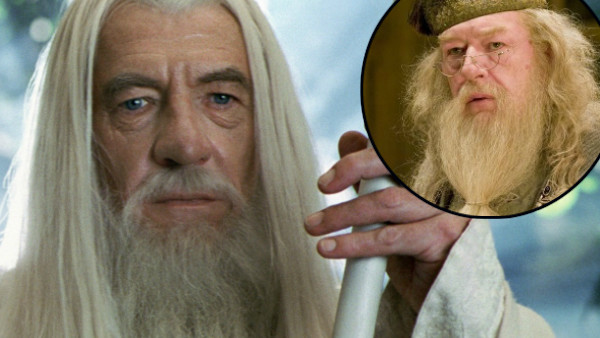 Ian McKellen is well-known and loved for bringing to life on-screen one famous literary wizard, but there could have been a second on his resume.
When Richard Harris, who played Albus Dumbledore in the first two Harry Potter movies, sadly passed away prior to filming The Prisoner of Azkaban, a new actor was needed to step into the role.
One of those offered the part was Ian McKellen, who at the time was already portraying Gandalf in Lord of the Rings (a role he'd later reprise in The Hobbit). Speaking on BBC's Hardtalk, the thesp offered a little more detail into why he turned down the role, saying:
"When they called me up and said would I be interested in being in the Harry Potter films, they didn't say in what part. I worked out what they were thinking, and I couldn't … I couldn't take over the part from an actor who I'd known didn't approve of me."
Prior to his death, Harris had commented on McKellen, along with Derek Jacobi and Kenneth Branagh (who did star in Harry Potter) as "technically brilliant but passionless."
McKellen has spoken on this subject before, joking back in 2007 that he didn't want to play Dumbledore as he was already "the original" wizard, and then mentioning Harris' comments about him.
McKellen also wrote a tribute to Harris on his website shortly after the actor's death, saying: "When recently he criticised me and others for being passionless actors I supposed he might be a little upset that I had landed the superior wizard on screen."
He then added: "To die supported by acclaim and a steady job is more than most actors dare hope for, even wonderful ones like Harris."
It'd be interesting to see what McKellen would've brought to the role. He's undoubtedly a brilliant actor, but it might've been hard to see him as both Gandalf and Dumbledore. Michael Gambon eventually got the role, bringing us that infamous Goblet of Fire line-reading, but I don't think anyone would've matched the perfection of actor-to-role as Harris did.
Would you have liked to have seen McKellen as Dumbledore? Let us know down in the comments.