How Home Alone ACTUALLY Confirms Kevin Is A Psycho
It's not the traps...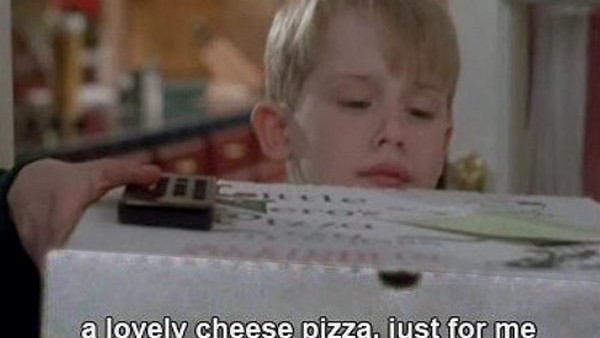 In the past few years, there have been some pretty enthusiastic film theories borne out of Home Alone suggesting that Macaulay Culkin's fresh-faced Kevin McCallister might well have grown up to become Jigsaw from the Saw movies.
The theory tends to go that McCallister's repeated abandonments would have eaten away at his mental stability and his existing flair for causing pain to house invaders turns into Jigsaw's penchant for sadistic trap devices. And it's quite compelling from a certain point of view.
But there's something that most people seem to miss about Kevin McCallister in Home Alone, particularly when discussing a possible future where he's FORCED into becoming the monstrous puppet master through mistreatment. The stark reality is that Kevin is already evil before the Wet Bandits try to break into the McCallister home.
That's nothing to do with him wishing his family would disappear or his quickness to violence when Buzz eats his pizza - those are no more than the normal behaviour of a child in what they see as an unjust situation. No psychosis there. But later in the film, we see the real confirmation that Kevin is no more than a kid with a magnifying glass burning ants. And it comes in his treatment of an innocent character who probably had his entire life - and DEFINITELY his promising career - ruined.
Picture this: you're a young man, possibly in college, looking to make ends meet with an evening and weekend job. You see an advertisement for Little Nero's Pizza and take to it pretty well (despite people leaving obstacles in front of their houses you might occasionally crash into), to the point that you're deemed worthy of "nice tips."
Then one fateful night, you take a pizza to a customer you've visited before only to be met by needless aggression that quickly and horrifying turns to violence and gun-fire. You flee for your life, which you've barely been able to escape with, knowing it could have been so different. You're so terrified that you don't call the police and live the rest of your days in the fear that you could be shot at any moment for as little as delivering a pizza on time.
So goes the tale of Home Alone's LIttle Nero's Pizza boy, who does precisely nothing to deserve what Kevin does to him. There was nothing stopping Kevin from simply opening the door, taking the pizza and paying him. It wouldn't have caused him trouble, it wouldn't even have aroused suspicion (and if it had, Kevin talks himself out of such suspicion in the supermarket anyway). He does it for one simple reason: it entertains him.
It is this moment - which must not have been reported to the police because it's not investigated at all (and the only reason for that would be fear) - that confirms that Kevin is not a Good Boy. He's intelligent enough to know that his actions have consequences by this point, even if his full epiphany hasn't quite gestated yet and, crucially, he knows the movie scene he used to torment his delivery boy is a powerful psychological weapon, because it's already terrified the life out of him personally too.
So yeah, next time you're concerned about Kevin being a victim, maybe think of the poor Little Nero's employee whose life he ruined. Not so innocent now.
Watch Next...
Create Content and Get Paid
---