Iron Man 3 Will Find Tony Stark Battling Extremis?
One theory suggests the storyline for next summer's Marvel threequel is already hinted at in The Avengers trailer!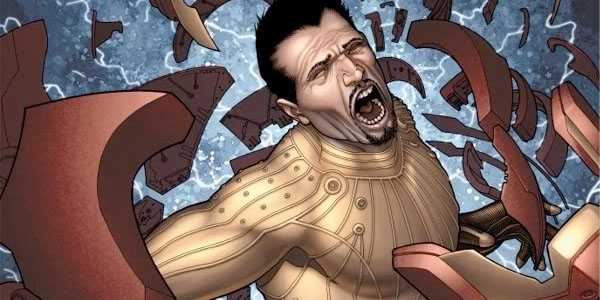 Latino Review
have posted a very intriguing video theory, actually a mixture of exclusive intel they have received plus no doubt some plausible sounding guesswork, that could be an early indicator for the plot of Iron Man 3. So far we know next to nothing about the forthcoming threequel except that Lethal Weapon & Kiss Kiss Bang Bang helmer Shane Black will direct from a script by Drew Pearce (No Ordinary Family) and that it will hit May 2013, which as time is creeping up on us is barely more than a year away. Anything beyond that we don't know yet... or do we? Latino Review are making a strong argument that suggests the Extremis storyline will be used for Iron Man 3 and it is has already been hinted at in the form of The Avengers trailer. Now I think LR take a few leaps of faith in their theory with more than a little guesswork however it all does sound plausible and consider this - production on Iron Man 3 begins in just a few months time to shoot through the summer for a release barely a year away. Marvel must by now have a script they are close to finalising on and there will obviously be a direction to where the character of Tony Stark is headed from The Avengers film that is a two hour long trailer for what more is to come from this universe. LR may just have this spot on. What their video essay below; What do you think of there theory? Meanwhile AMC theaters in the US have announced that they will be holding a special Ultimate Marvel Marathon on May 3rd in select cities, beginning from 11.30am that will screen all previous five Marvel Studios movies Iron Man, The Incredible Hulk, Iron Man 2, Thor, Captain America: The First Avenger in the order of release (the latter two in 3D), all leading up to a midnight showing of Marvel's The Avengers which opens the next day. That superhero extravaganza will set you back some $40 but it will be a once in a lifetime marathon (although one admittedly that more or less you could replicate at home once The Avengers is released on home video) but there's nothing that beats the collective experience of viewing movies with a theater audience. Select cinemas showing the marathon below; Boston Common 19 Boston, MA Burbank 16 Burbank, CA Downtown Disney 12 Anaheim, CA Aventura 24 Aventura, FL Empire 25 New York, NY Garden State 16 Paramus, NJ Downtown Disney 24 Lake Buena Vista, FL Metreon 16 San Francisco, CA Alderwood 16 Lynnwood, WA Tysons Corner 16 McLean, VA More theaters to be announced and more tickets will go on sale on March 16th at
go.amctheaters.com/marvel
.
Create Content and Get Paid
---