James Bond: 8 Movies You Need To See To Understand Spectre
Brush up on the organisation before the film's release.
We're mere weeks away from the release of Spectre, and James Bond fans everywhere have been waiting over forty years for this movie. Because, finally, we'll get the chance to see 007 once again go up against his famed criminal adversaries in the form of SPECTRE! Ever since SPECTRE's departure from the franchise in the early seventies, the Bond series has lost something, with attempts to recreate it in the form of Quantum falling pretty flat. Thankfully, from what we've seen of the new film so far, it looks like director Sam Mendes is on the right track, once again pay homage to the Bond canon, just as he did with Skyfall. But exactly who are the titular group? Well, SPECTRE stands for Special Executive for Counter-intelligence, Terrorism, Revenge and Extortion. They're an international criminal organisation whose schemes drive the plots of many films - think Bond's version of HYDRA. Although playing a very large role in the films starring Sean Connery, a legal dispute between the Fleming estate and Kevin McClory (who helped create SPECTRE when he and Fleming came up with the story for Thunderball) forced EON to stop using them after Diamonds Are Forever. But now, the rights dispute is over and SPECTRE is back! Christoph Waltz will the organisation's leader, Oberhauser (who is totally not Blofeld), and it's the perfect time to brush up on our SPECTRE history.
Honourable Mention: For Your Eyes Only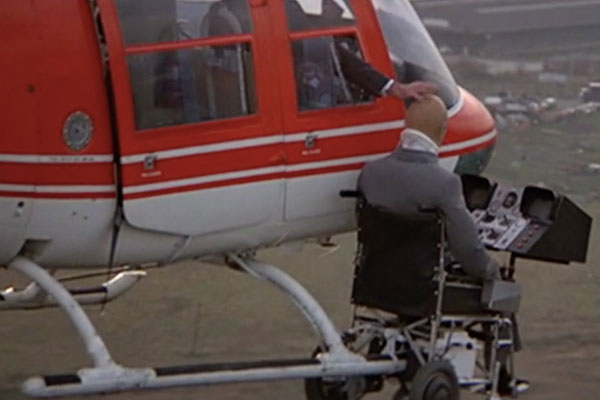 Due to that legal dispute between McClory and the Fleming estate, EON never got to wrap up the SPECTRE plot thread. In fact, McClory was trying to get his own version of Thunderball made, and that caused some bad blood between him and the studio. The dispute is clearly on display in the cold open of 1981's For Your Eyes Only. It's one of the better entries in the otherwise-dismal Roger Moore era, but the opening is completely out of place. It shows Bond visiting the grave of his wife when he's attacked by a wheelchair-bound Blofeld. Due to the restrictions, SPECTRE is never mentioned and Blofeld's face is never shown, nor is his name ever used (in the credits, he's referred to as Wheelchair Villain). It's a goofy sequence where Bond picks up Blofeld in a helicopter and drops him into a smokestack. All the while, Blofeld begs for his life, at one point even offering to buy Bond "a delicatessen in stainless steel." Definitely not the ending Bond's arch-nemesis deserved.
Percival Constantine
Percival Constantine is the author of several novels and short stories, including the Vanguard superhero series, and regularly writes and comments on movies, comics, and other pop culture. More information can be found at his website, PercivalConstantine.com
See more from Percival