Jordan Peele's "Us" Confirmed For Halloween Horror Nights 2019
Are you about to become your own worst enemy?
Halloween Horror Nights guests will experience a terrifying new maze based on Jordan Peele's "Us" this September.
Coming to both Universal Orlando and Universal Studios Hollywood, guests will enter the terrifying world of the Wilson family as they come face-to-face with "The Tethered"? These creepy doppelgängers are not just something out of a horrifying nightmare, they are about to make YOU your own worst enemy.
"Us" is the perfect setting for a Universal Halloween Horror Nights house. The movie is filled with creepy locations such as the labyrinth of tunnels, the Wilson's family cabin and of course the eerie fun house on the Santa Cruz boardwalk.
You'll follow in the footsteps of Adelaide Wilson. Things begin in 1986 when as a child she encounters Red, her "Tethered" doppelgänger. Next, you'll head deep into the Fun House and be "transported" to the modern day where "The Tethered" are emerging to murder their "privileged upperworld counterparts".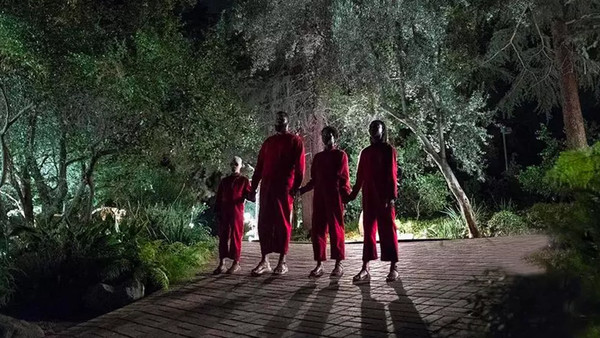 The blockbuster movie was created by Academy Award winning filmmaker Jordan Peele. Speaking of his anticipation for seeing "Us" translated into a HHN maze, Peele said:
"It's very exciting to know that fans of Us will get to experience firsthand the terror of being stalked and tormented by 'The Tethered.' It's been a lifelong ambition of mine to create a monster that would scare people on Halloween, so having 'The Tethered' join such esteemed company is a dream come true,"
"Us" is the 8th house to be revealed for Universal Orlando Resort and the 7th for Universal Studios Hollywood, but there's still even more surprises to come.
"Halloween Horror Nights" begins Friday, September 6 in Orlando and on Friday, September 13 in Hollywood. All tickets for Universal Studios Hollywood and Universal Orlando Resort are on sale now. For more information about "Halloween Horror Nights" at Universal Studios Hollywood and Universal Orlando Resort, visit www.HalloweenHorrorNights.com.
We need more writers about Jordan Peele, Universal Orlando Resort and Universal Orlando! Get started below...
Create Content and Get Paid
---