Jude Law To Star In Captain Marvel As Brie Larson's Mentor
Mar-Vellous news.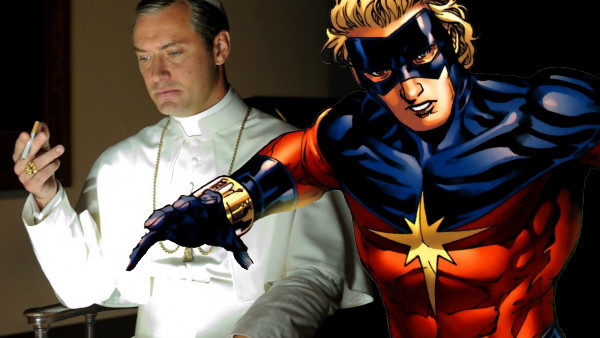 Jude Law is set to become the latest actor to join the Marvel Cinematic Universe, with reports stating he's on the verge of being cast in the forthcoming Captain Marvel movie.
According to Variety, Law is in talks for a role as a mentor in the film. More specifically, he'll be taking on the role of Dr Walter Lawson, better known as Mar-Vell. A part of the Kree race who'll be appearing in the movie, he helps Carol Danvers when she first gains her powers, and the story notes he'll be the male lead in the film, which is set in the 1990s.
Law's enjoying something of a career resurgence of late, with the lead role in HBO's The Young Pope proclaimed one of his best ever performances, and he'll be seen next year as young Dumbledore in Fantastic Beasts: The Crimes of Grindelwald.
Brie Larson is, of course, in the title role as Danvers/Captain Marvel herself, while Star Wars actor Ben Mendelsohn was recently cast as the movie's villain. The film is being directed by Half-Nelson's Anna Bode and Ryan Fleck, with the most recent version of the script penned by Geneva Robertson-Dworet (Tomb Raider).
The film is currently scheduled for release on March 8, 2019.
What do you think of Jude Law playing Mar-Vell? Share your thoughts down in the comments.