Justice League: Has Joss Whedon Actually Written As Much As 33%?
Does writing credit confirm his influence?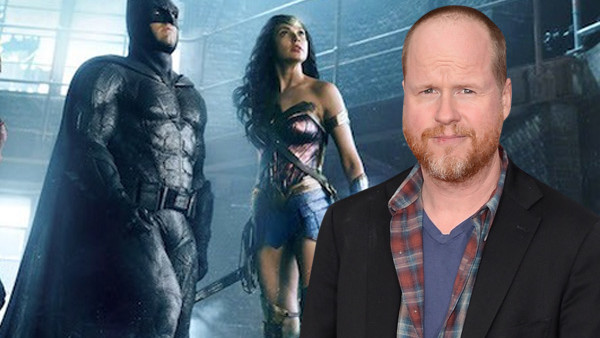 The question of how Joss Whedon would be credited on Justice League has been a big one since he was brought in by Zack Snyder to add additional scenes and to take over as he stepped back to take some personal time. We already knew that he couldn't be credited as director, because of strict Directors Guild of America rules, but it made sense that he'd be listed as something for certain.
Now it seems we have an answer, as the Warner Bros. Pictures' 2017 Fall Movie Preview press release confirms that he will be sharing the screenplay credit with Chris Terrio.
But what exactly does that mean? There is some confusion over the rules of screenwriting crediting, which comes thanks to the fact that the Writer's Guild of America rules aren't entirely clear. In their complex 27-page manual on crediting rules, they state that only two writers can share credit "except that in unusual cases, and solely as the result of arbitration, the names of three writers or the names of writers constituting two writing teams may be used."
A writer must also have put in a certain amount of work to get one of those credits, too, which is the crucial point:
Any writer whose work represents a contribution of more than 33% of a screenplay shall be entitled to screenplay credit, except where the screenplay is an original screenplay. In the case of an original screenplay, any subsequent writer or writing team must contribute 50% to the final screenplay.
Die Hard writer Steven de Souza pointed out that those rules do still apply, and that Warner Bros could only announce the credit if approved by the WGA...
But Umberto Gonzalez of The Wrap has thrown a spanner into the works...
It's all about as clear as mud, but it seems to suggest that Whedon must have a significant portion of writing in there,
But then the truth of Hollywood is that a lot of people who actually help write movies don't get credited at all. As producer Charles Roven revealed for Wonder Woman, Geoff Johns and Patty Jenkins wrote a lot of the script that was actually used (in scene-to-scene terms), but neither was able to get a writing credit thanks to the rules, and that's despite them apparently doing "way more than 33%" according to Gonzalez).
Steven de Souza contests that, stating the Wonder Woman example doesn't quite ring true:
In terms of the actual definition of the 33%, it's also pretty vague as it doesn't just mean number of actual words written - the writing share takes in other more fluid elements like "dramatic construction, original and different scenes, characterization or character relationships, and dialogue." It's all vague enough to be definable infinite different ways, but again, the key point is that the WGA have to have looked at Justice League and deemed Whedon's input significant enough to have changed the film a lot.
To put it simply, if he's credited, he has affected the plot or the dramatic shape of the film in a way that is deemed more substantial by the WGA than if he was simply coming to rewrite dialogue (as he did for most of Speed's script without getting credited, and as Geoff Johns and Patty Jenkins seem to have done for Wonder Woman). But then, that's assuming that the credit situation even went to arbitration.
If Chris Terrio willingly gave up a share of the credit (and some of his pay, in other words), then the 33% figure doesn't even come into it. And the fact that nobody up until now has even mentioned a WGA arbitration could suggest that that is exactly what Terrio has done, in order to allow Whedon a credit where he wouldn't get one for his directorial influence.
The long and short of it is that nobody really knows aside from Whedon and Terrio what his credit means, and all of the concrete hot takes you'll read mean very little until more information is released. If it ever is.
Create Content and Get Paid
---