Keanu Reeves & Alex Winter Finally Reuniting For Bill & Ted 3
EXCELLENT! This should be a most triumphant sequel.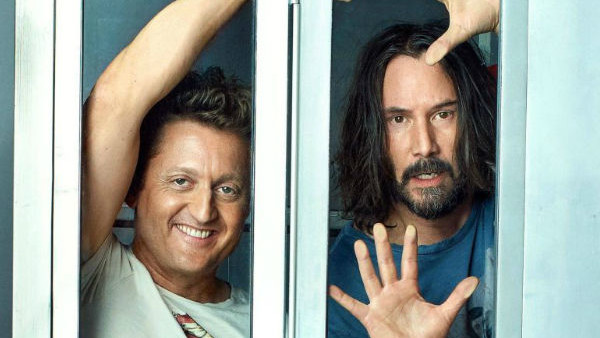 Time to break out the air guitar.
Some most non-heinous news has just broken out of the Cannes Film Festival, with the confirmation that Keanu Reeves and Alex Winter are officially signed on for Bill & Ted Face The Music, the long-delayed third instalment in the metalhead sci-fi comedy series.
Just in case you're one of those bogus dickweeds unfamiliar with the characters (and/or you were born this century), Winter's Bill S Preston Esquire and Reeves' Ted Theodore Logan were introduced in 1988 cult classic Bill & Ted's Excellent Adventure.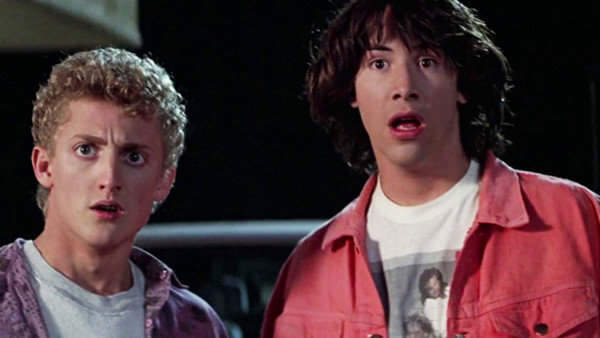 The founding members (and in the original, the only members) of rock band Wyld Stallyns, destined to become the most famous musicians in the history of the universe, upon which an idyllic future society is based. To secure this future, George Carlin's sage-like Rufus is sent back in time from the 27th century to help Bill and Ted pass their high school history report, sending the two easygoing dudes on an unprecedented expedition through history.
Then, in 1991's equally excellent follow-up Bill & Ted's Bogus Journey, Joss Ackland's future despot De Nomolos sends evil robot clones back in time to kill our heroes and take over their lives, forcing Bill & Ted to traverse the afterlife in the company of William Sadler's Grim Reaper and a pair of martians called Station. Yes, these were pretty bizarre movies.
Bill & Ted Face The Music has been in the works for some time. The returning Reeves and Winter are joined by original writers Ed Solomon and Chris Matheson, with Galaxy Quest's Dean Parisot directing.
According to the synopsis published by Deadline, "the new movie will see the two best friends as middle-aged men with family responsibilities who have yet to fulfill their destiny. They've written thousands of tunes, but they have yet to write a good one, much less the greatest song ever written. With the fabric of time and space tearing around them, a visitor from the future warns the duo that only their music can save life as we know it."
This sends Bill and Ted travelling through time once again, this time with their daughters along for the ride.
Reeves is as busy as ever, with Bill & Ted Face The Music poised to be his next picture after another trilogy closer, the in-production John Wick 3. For Winter, however, this will be his first major acting role in decades, as he's worked primarily as a director since the 1990s.
Create Content and Get Paid
---