Kelsey Grammer: 5 Awesome Performances And 5 That Sucked
Singling out five of his finest hours and five performances for which he should be committed.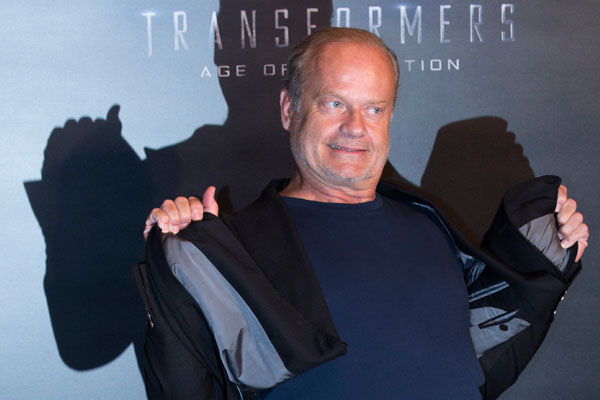 Kin Cheung/AP/Press Association ImagesToday sees the US release of Transformers: Age of Extinction, the fourth instalment in Michael Bay's seemingly endless franchise which has brought him enormous financial success and equally enormous amounts of critical bile and derision (most of which he deserves). While audiences no longer have to endure Shia LaBeouf, the trailers suggest that little else has changed: there's still the obsession with military hardware, the pseudo-pornographic visuals, and the incoherent shooting style that has gradually infected Hollywood. Following in the footsteps of John Turturro, John Malkovich and Frances McDormand (shame on all of you), this film finds Kelsey Grammer taking the Bay shilling. In a way it's fitting that the man who played one of culture's most recognisable psychiatrists should now be playing a paronoid government agent. But there is so much more to Grammer's career than the sardonic radio shrink, or his erudite homicidal maniac with pointy hair. So, before Bay manages to completely ruin his career, let's take a look back at Grammer's output in time-honoured WhatCulture.com style, singling out five of his finest hours and five performances for which he should be committed. We'll begin with a not-so-nutty professor...
5 Awesome Performances...
5. Professor Tuttle - Stark Raving Mad, 'The Grade' (TV, 2000)
https://www.youtube.com/watch?v=pZW5YBQDOTs During his long run as Frasier Crane, first on Cheers and later on Frasier, Grammer would often make time to turn up in brief but memorable supporting roles in other TV shows. Some of these appearances were mere cameos, like his role as Starfleet Captain Bateson in Star Trek: The Next Generation. But others were more developed and gave us more time to appreciate his talent, and his appearance in Stark Raving Mad is a good example. Stark Raving Mad is an American sitcom starring Tony Shalhoub and Neil Patrick Harris, which ran for one season over 1999 and 2000 before being cancelled. The show revolves around the interaction between eccentric horror novelist and practical joke enthusiast Ian Stark (Shalhoub) and his reluctant, phobia-ridden, borderline-OCD editor Henry McNeeley (Harris). In 'The Grade', Stark writes a book review for a student friend after one of his novels comes up on her class reading list - only to confront her English professor (Grammer) when he only gives the report a 'B'. Grammer has always had a talent for playing pent-up anger and frustration, and he does a really good job of making Professor Tuttle more than just a knock-off of Frasier. His scenes with Shalhoub are well-paced and showcase a lot of Grammer's comic timing; he plays up his confusion about Stark's identity just right, and gets a balance between the frustration and freeform rambling that often characterises middle-aged teachers. If nothing else, this role is a lot of fun and proves that there are several more strings to his TV bow.