LEGO Hulkbuster: Ultron Edition Review
A giant new member for the LEGO Marvel family...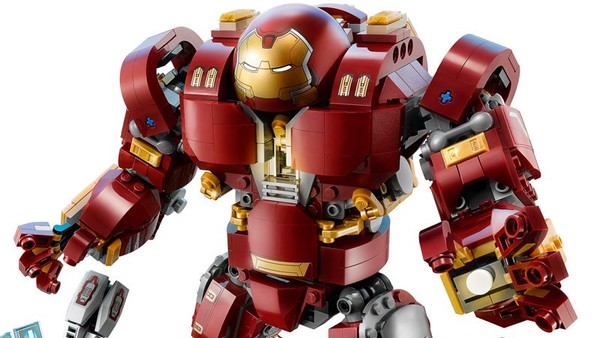 Hot on the tail of it appearing at the Toy Fair in New York, LEGO have released their new, more detailed version of the Hulkbuster Armour - as seen in Avengers: Age Of Ultron (and soon to appear in Avengers: Infinity War). And it's a bit special.
This isn't the first Hulkbuster set that's been released: when Age Of Ultron came out there was a smaller version released as part of the Hulkbuster Smash set, which was all well and good, but it can't compete with this new set. The difference between the two is profound: the smaller set is designed more for play, with a mini-fig able to sit inside and pilot, but here, the Hulkbuster is very much an exhibit.
The limbs aren't as posable, but the design is gorgeous and it really does justice to Tony Stark's genius. What it sacrifices in playability it more than makes up for in detail. And this is ostensibly a display piece. If you're looking to battle a LEGO Hulk, you should probably use one of the cheaper, smaller kits.
Mini-Fig
Obviously, the Hulkbuster comes with a pilot, in the shape of a new Mk 43 Iron Man suit (without Tony Stark inside as the helmet contain a transparent piece in place of a face. It's the same mini-fig that appeared in the Hulkbuster Smash set, but the design is slightly different with different detail on the body and legs. It's a great little mini-fig.
Design
There's lots of detail here, but there's a slight compromise on movie accuracy: the MCU's Hulkbuster is a far broader beast - particularly through the chest area - whereas this LEGO iteration is sleeker and slimmer and not as wide across the shoulders. That doesn't make it ugly by any means, but as a display piece (and particularly a UCS-like piece), a little closer design to the film would have been nice.
Other than that, it's a beautiful Hulkbuster (and really, Stark made his design too wide anyway). The little details are the best, like the little hot rod and the Veronica satellite that come along with the suit. And the stand, with its display sign and additional robo-arms. It makes for a very striking piece on your shelf, that much is certain.
There's also an alternate element, with two different lower left arm options - a standard and the jackhammer arm that rotates sharply.
The Build
The box - which is rather on the large size, but that's part of the excitement - contains 9 numbered bags and a tenth with the base pieces inside, the instruction booklet and 20 stickers (there aren't as many printed parts as you might expect from your usual Ultimate Collector Series sets, but that doesn't really detract from the set.
It's a build that takes time without being needlessly complex, with 1,363 pieces and a good satisfaction rating as you start to see it take shape (a big and underrated aspect of LEGO building).
All-in-all, a great piece with huge impact and definitely worth the price considering some of the higher priced prestige sets out there. Definitely one for Marvel collectors.
LEGO 76105 Hulkbuster: Ultron Edition is available now from the LEGO Shop Online for £119.99.
Want to write about Avengers and Lego? Get started below...
Create Content and Get Paid
---