Life Finds A Way: Jeff Goldblum Is Returning For Jurassic World 2
The best news you'll read all year.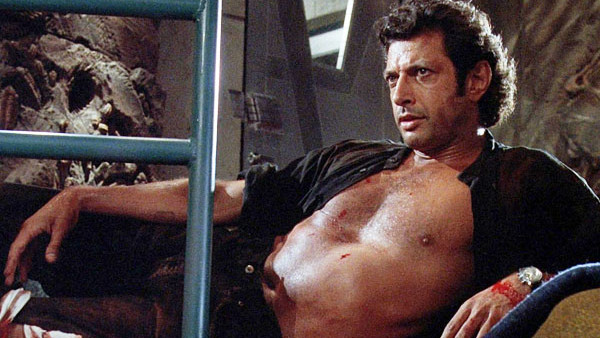 Jurassic World's sequel just got an awful lot more exciting with the news that Jeff Goldblum's Ian Malcolm will be returning to the dinosaur franchise for the third time. The all-action mathematician has quickly emerged as the franchise's most beloved character - and its most memeable - and the continued rise of Goldblum as Hollywood's favourite quirky guy should ensure this news is welcomed as positively as it deserves to be.
The actor already has Thor: Ragnarok incoming after the patchy performance of Independence Day: Resurgence (which he is beyond brilliant in, incidentally), and he does seem to be sticking to the "do what you know" sort of roles these days. Which of course is no bad thing.
Rumour has it that the sequel will at least in part focus on a naturalist message on animal rights - tying somewhat into the team Malcolm unwittingly becomes part of in The Lost World - and it wouldn't be at all surprising if that's how he becomes involved. Unless he's coming back to question why nobody has learned a single thing from him almost being eaten by dinosaurs twice.
Despite rumours, Goldblum didn't turn up for the half-expected cameo in the first movie, with the film instead celebrating the character's legacy with the revelation of his book "God Creates Dinosaurs" at one point. Hopefully, we'll get to see him bouncing off his fanboy Jake Johnson this time out.
Interestingly, he has twice very publicly denied he was set to reprise his role, once at a screening of Independence Day for its 20th anniversary, where he said:
"Nobody's told me about it. I did those couple and I'm entirely satisfied. If I never did any more, I'd be entirely nourished and happy and fulfilled from having done these. They're doing spectacularly well without me."
And also on the Graham Norton show, where he was asked if he was available for Jurassic World and why he didn't return. Again, he chose the nourishing line: "'Yes. I was available. But had a big satisfying meal with being in two of them."
Presumably, he's hungry again.
He will join returning heroes Chris Pratt and Bryce Dallas Howard in a story further focused on the militarisation of dinosaurs and directed by JA Bayona. Whether it's even called Jurassic World 2 at this stage is unclear.
Are you excited by this news? Share your reactions below in the comments thread.
Create Content and Get Paid
---