Machete's 5 Most Memorable Kill Scenes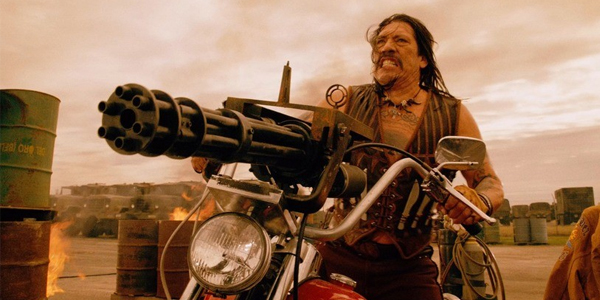 It€™s not long now until we see Machete €" Danny Trejo€™s finest character creation €" return to the big screen with the appropriately named Machete Kills, and we€™re excited to see him wielding his iconic weapon (and anything else he can get his hands on, presumably.) Because if there€™s one thing Machete knows, it€™s killing €" and from the look of the newest trailer, it seems he has some new additions to his arsenal. Rodriguez€™s blood and tequila-soaked Grindhouse sequel will premiere on 10/11/2013, and it€™s likely to pack a series, self-aware punch that puts the explosive in exploitation. These are the five most memorable deaths from the Machete series so far €" some by the hand of the resourceful Mexican, and some not€
5. The Murderous Chef €" Machete Kills
A couple of quick tips we should all learn from the new teaser trailer for Machete Kills €" never throw a giant knife at Machete, and most pertinently of all, if you do get the chance to throw a giant knife at him, DON€™T shout his name first€
4. The Gut Rip
A high point for Machete€™s resourceful nature, when he rips a henchman€™s guts open and uses his intestines to swing out of a hospital window to safety, we knew we had just seen the work of the world€™s premier Mexican superhero.
3. The Stiletto Stab
Jessica Alba's Sartana is almost as bad-ass as Machete himself, and in a particularly memorable scene from the first movie, she channels the inventive kill skills of Jason Bourne and stabs a villain to death with a stiletto heel. Killer heels indeed.
2. McLaughlin€™s Karmic Retribution
Robert DeNiro€™s sleazy, corrupt politician doesn€™t actually die at the hands of Machete, but falls under the blade of karma, as he is wonderfully slain by his own vigilante group, who mistake him for a Mexican. Take that irony!
1. Torrez€™s Seppuku
Another who Machete doesn€™t kill €" though he is mortally wounded €" as the main villain of the first Machete uses Machete€™s sword to commit an honourable suicide. What better way for the near-invincible Seagal to bow out? Machete Kills is released 10/11/2013.
We need more writers about Machete, Machete Kills and No Ads! Get started below...
Create Content and Get Paid
---