New Avengers: Age Of Ultron Empire Magazine Covers And Stills
Avengers Assemble in new Avengers: Age of Ultron stills and magazine covers.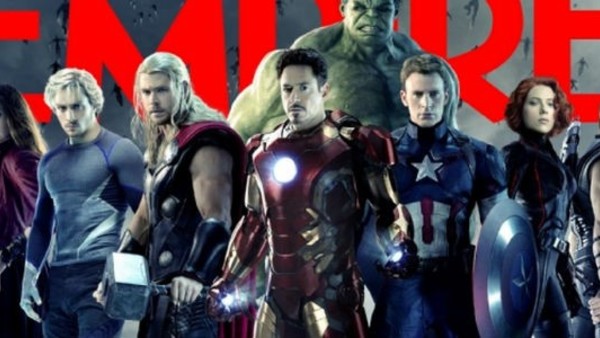 As the release of Avengers: Age of Ultron draws closer, we're finally getting to see more and more from Joss Whedon's highly anticipated sequel to the highest grossing superhero movie of all-time. The latest issue of Empire Magazine offers up a look at some very cool new shots from the movie as we see Captain America (Chris Evans) and Thor (Chris Hemsworth) in action together (presumably when the team attacks Baron von Strucker's HYDRA base in the first act), a sultry looking Elizabeth Olsen as the Scarlet Witch, and the always lovely Scarlett Johansson once again reprising the role of Black Widow. The covers meanwhile offer up both a very detailed view of Ultron and our first look at the entire team assembled. Sadly, The Vision is still missing despite the fact that he's been seen a number of times in leaked promo art. When could Marvel be saving his official live-action unveiling for? A Super Bowl TV spot seems most likely. There's a lot we still don't know about Avengers: Age of Ultron, and like the first movie, there are sure to be plenty of surprises. Though there's nothing too revealing here, seeing Earth's Mightiest Heroes assembled should be more than enough to get you counting down the days, hours, minutes, and seconds until the sequel reaches the big screen! In Avengers: Age of Ultron, Tony Stark tries to jumpstart a dormant peacekeeping program, but things go awry and Earth€™s Mightiest Heroes, including Iron Man, Captain America, Thor, The Incredible Hulk, Black Widow and Hawkeye, are put to the ultimate test as the fate of the planet hangs in the balance. As the villainous Ultron emerges, it is up to The Avengers to stop him from enacting his terrible plans, and soon uneasy alliances and unexpected action pave the way for an epic and unique global adventure. The movie stars Chris Evans, Chris Hemsworth, Robert Downey Jr., Mark Ruffalo, Jeremy Renner, Scarlett Johansson, Aaron Taylor-Johnson, Elizabeth Olsen, Cobie Smulders, Don Cheadle, Paul Bettany, James Spader, and Samuel L. Jackson and hits May 1st, 2015. However, it should reach the UK sometime in April!
Create Content and Get Paid
---