New Toy Reveals What MCU's Captain America ALMOST Looked Like
Does it come in black?
One of the hardest things to do when adapting comic books to the big-screen is nailing the costumes. They have to look different, but not to the point where they seemingly dismiss the concept from the source material, and with Marvel's heroes all having boasted a veritable bonanza of different costumes over the years, Marvel Studios have never been short of inspiration.
Chris Evans' MCU costume, for instance, draws inspiration from a wide variety of classic Cap outfits. The helmet is lifted from Bryan Hitch's design for Ultimates, and the rest of the suit bears the inflections of over 75 years' worth of comic book material. This all-encompassing approach to design can be found in Iron Man's armour, Hawkeye's costumes and in Tom Holland's Spidey suits - both in Homecoming, and Infinity War - among other notable heroes and villains too.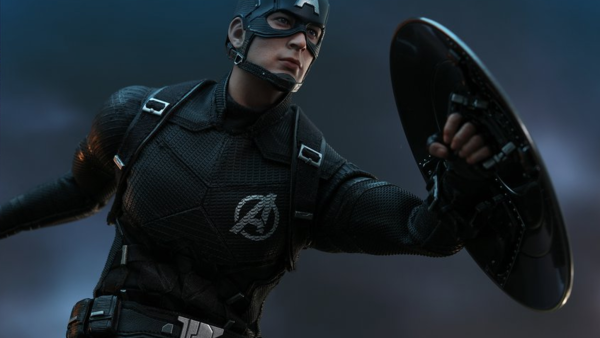 But they could have looked a lot more different, with Cap's suit in particular having undergone extensive design during the conceptual stage of development. The man responsible for this is Ryan Meinerding, and now - thanks to Hot Toys - we get to see what Steve Rogers could have looked like in Captain America: Civil War.
Boasting a black, white and grey colour pallet, this suit is a definite departure from the red, white and blue of the comics. It also looks really, really cool, with the top layer of the costume even boasting a chainmail-like material in a nod towards the character's original look. Meinerding's concept art can be seen below, and given how it was a design for Civil War, it's clear that the presence of the Avengers symbol lends itself well to the overall themes surrounding that film. Could you imagine Cap wearing this before the conflict broke out between the pro and anti-accord forces?
In any case, while it's a shame we never got to see this particular outfit on the big screen, it's great to see it be brought as close to life as possible in a Hot Toys figure. The series' figures have a reputation for bearing an uncanny resemblance to the likeness of its chosen subjects, and while this is the first piece to have replicated MCU concept art, one would hope it'll be the first of many to come.
Y'know, with them looking so good and all.
Watch Next...
Want to write about Marvel Cinematic Universe and Captain America? Get started below...
Create Content and Get Paid
---
Ewan Paterson
WhatCulture's very own Comics Editor. Cats, comic books and spaghetti westerns are my thing. Rants about stuff @EwanRuinsThings
See more from Ewan