Oh Great, Jack Black Joins The Rock & Kevin Hart In Jumanji Reboot
And wait... Is Jumanji going to be a video game now?!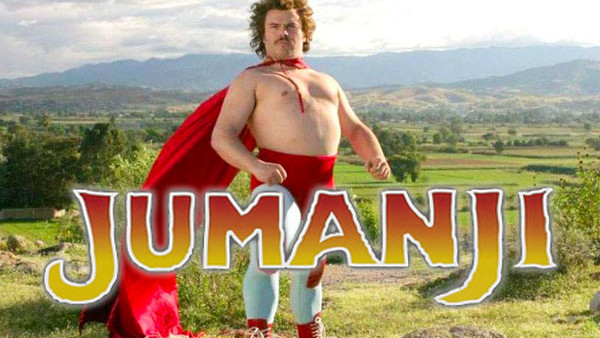 We already knew The Rock had something cooking in the jungle, and that it looked like his Central Intelligence co-star/MTV Movie Awards 2016 co-host Kevin Hart was set to reunite with him there. Now, the Jumanji reboot has had another injection of comedy talent.
According to The Wrap, Jack Black is now in talks to join the cast of Sony's new take on Chris Van Allsburg's novel, adapted into director Joe Johnston's 1995 family fantasy adventure which starred the late, great Robin Williams and a young Kirsten Dunst. This will mark a reunion between Black and director Jake Kasdan, who previously worked together on 2002 comedy Orange County.
Okay, so given that Black has starred in some less-than-stellar family adventure movies (Gulliver's Travels, anyone?), some of us might not consider his casting to be the greatest cause for optimism in a property which many feel doesn't need rebooting. However, it is at least further indication that this incarnation of Jumanji will have some significant differences from the Joe Johnston movie.
Just read how Johnson himself describes the film, in announcing Black's casting on Instagram: "The "Jumanji Breakfast Club" is coming together.. myself, Jack (mf'n) Black and Kevin Hart. Two big roles left. One bad ass girl. One semi-sorta bad ass dude. Who will they be... this is gonna be fun."
Does this mean we'll be seeing five adults (presumably former childhood friends) playing the deadly magic board game this time around? Sounds a far cry from the original, in which the two adults who started the game in 1969 continued it in 1995 with two children. We might also note that Johnson uses the hashtag "#JustPressStart," which would seem to imply that it's a video game rather than a board game this time around.
Doubtless we'll learn more before the Jumanji reboot lands in cinemas next July.