Oscars 2014: If We Picked The Winners (Best Adapted Screenplay)
Even though the field itself wasn't very deep this year, the actual nominees weren't too shabby at all.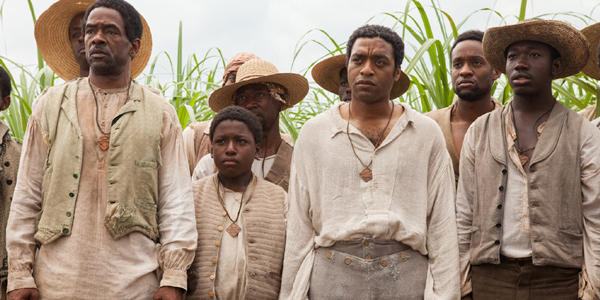 A former bastion for heavy weight Oscar films, the Adaptation category appears to be in a bit of a weird transitional faze at the moment. At one time, the films in the Best Adapted Screenplay category were too numerous to fit into one category, lately however, the Writers branch has had enough room to accommodate practically every single major Best Picture contender that qualifies (and then some in recent years). As the craze in young adult fiction and comic books has consumed much of the time of talented writers who specialize in the art of adaptation, perhaps the willingness of studios to hire these writers for adaptations of loftier literature has decreased. Even of the films that have found award success in this category over the last few years, many have come from sources that don't exactly qualify under the strict traditional definition of "literature". For instance, last year's winner in this category, Argo, was partly based on an article tilted "The Great Escape" that appeared in Wired magazine, while Aaron Sorkin's script for The Social Network was written more or less in conjunction with the book it was based on, The Accidental Millionaires, which itself was supposedly written with the express understanding that it would be adapted into a movie. The line between what is "adapted" and what is "original" is clearly becoming blurred. A film such as Toy Story 3, which was a completely original story that simply used characters established in previous films, somehow wound up as a 2010 nominee for Best Adapted Screenplay, while that same year, The King's Speech won Best Original Screenplay because it wasn't expressly based on any previously released material, despite the fact the film's subject matter was actual events in the life of King George VI. In 2014, we've run into this exact situation again, as Richard Linklater, Ethan Hawke, and Julie Delpy find themselves nominees in the Best Adapted Screenplay category simply for continuing a wholly original story about two middle-aged lovers, Celine and Jessie, while Craig Borten and Melisa Wollack are nominees for Best Original Screenplay despite what was an obviously highly researched script based on the real life of early AIDS victim Ron Woodruff. Apparently, categorization, as beauty, is in the eyes of the beholder. For this year's crop of Best Adapted Screenplay contenders though, the Academy needed the widest possible definition of "adapted", because the dearth of deserving contenders in 2013 was striking. From very early on, this race was wrapped up, with the eventual nominees, 12 Years a Slave, Before Midnight, Captain Phillips, Philomena, and The Wolf of Wall Street, simply receiving a conformation rather than a nomination when the final lineup was revealed. The only contender that actually had a shot of breaking into this preordained quintet was Tracey Letts' adaptation of his own Pulitzer Prize-winning play, August: Osage County, but as soon as the film premiered to a rather chilly reception among critics, Letts' hopes at an Oscar nomination were doomed. What other technically eligible screenplays outside the Academy's typical purview deserved some consideration in this category you ask? Not much. The one film that should be among the nominees in an ideal world is Hayao Miyazaki's The Wind Rises, which has one of the most beautifully insightful and traditionalist screenplays in quite sometime, but even though the Writers' branch does stick up for foreign films more than almost any other major branch of the Academy, the chances of a Japanese animated film receiving a Best Adapted Screenplay nomination were always small. The Secret Life of Walter Mitty had an interesting adaptation of James Thurber's famous short story (even if many critics weren't too enthused), but declaring it worthy of an Oscar nomination is a bit of a stretch. The Great Gatsby nearly topped my personal top ten list this year, but I wouldn't say the film's script was one of its strongest points. And beyond that... Grown Ups 2, perhaps? (Just so we're clear, and before my film writing license gets revoked, that was a joke). Even though the field itself wasn't very deep this year, the actual nominees weren't too shabby. As you will see momentarily, some are definitely stronger than others, but there was no real embarrassment, which is always a plus. Here then is my ranking, from worst to best, of this year's Best Adapted Screenplay nominees.