Oscars 2017: 20 Best Internet Reactions To La La Land's Best Picture 'Win'
Here's to the fools who dream... Here's to the hearts the break, here's to the mess we make.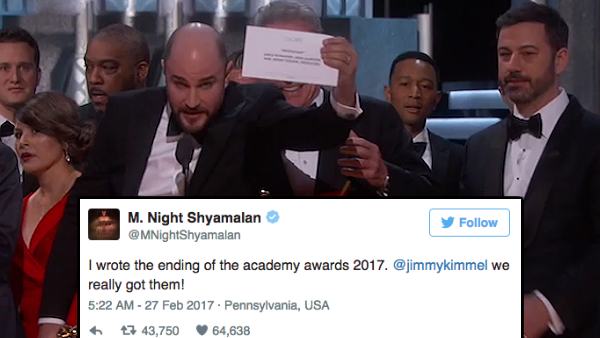 Wait, what?
The Oscars were - finally - drawing to a close and, as expected, La La Land was named Best Picture, the last award of the night.
The cast and crew went up to collect their prize, started the acceptance speech, and then came a twist bigger than any found in the nominated movies.
In what is surely the biggest WTF moment in the history of the Academy Awards, it turned out that Warren Beatty had been given the wrong envelope, and incorrectly named La La Land as the Best Picture winner, when it was really Moonlight.
On a night that had already included host Jimmy Kimmel bringing actual tourists into the auditorium, Moana star Auli'i Cravalho getting hit in the face by a wave (and carrying on without missing a note), and Nicole Kidman not knowing how to clap, this moment completely stole the show.
It's not so much the upset (La La Land was the heavy favourite) as the shocking way it went down. While host Kimmel seemed a little flustered by it all, the internet, naturally, reacted in style.
20. Ryan Gosling Saw The Funny Side
Ryan Gosling's reaction is everything. this is why I love him so much, and he went straight to congratulate the moonlight producers/cast pic.twitter.com/9oBaAfymHD

— an angel (@pradasfairy) February 27, 2017
Having already missed out on a Best Actor Oscar to Casey Affleck (though Gosling was never expected to win), he might've wanted this win particularly badly.
However, in keeping with just how bloody lovely and charming he always is, he was seen looking completely amused by the whole situation, before going straight over to the Moonlight crew to congratulate them.
Ryan Gosling, the Best Actor winner of the internet's collective heart.