Pasolini Review - Willem Dafoe Shines In Compelling True Life Story
Abel Ferrara tackles the last 24 hours of the legendary Italian director's life.
Rating: ˜…˜…˜… Abel Ferrara has been toying with the idea of making a film on the life of late Italian filmmaker Pier Paolo Pasolini since the early 1990s. The original idea was set to be quite different from the one we've got, mind, and would see actress and collaborator Zoe Lund (Ms. 45, Bad Lieutenant) playing a sort-of female version of Pasolini living the life that he did (the project was scrapped when Lund tragically died in 1997). It's easy to understand why Ferrara, the enfant terrible of New York cinema, was and is attracted to Pasolini: both men have been accused of peddling exploitation from those who find their work morally objectionable but, conversely, they have also been hailed as genuine auteurs and makers of important art (Pasolini more so than Ferrara, it must be said). Pasolini chronicles the final 24 hours in the late director, novelist, critic and intellectual's life. He has just finished shooting what would go on to be his most controversial work, Salò, or the 120 Days of Sodom, which has drawn impassioned responses from critics and the public. We see him putting the finishing touches on a novel, giving foreshadowing interviews to magazines and prepping his next film project, Porno-Teo-Kolossal.
This is not, by any means, a standard biopic. As well as chronicling what Pasolini did during his last day, the film also offers interpretations of scenes from Porno-Teo-Kolossal, which, while well-filmed (a mass bi-sexual orgy set in the city of Sodom is particularly striking), are often distracting and take away from the real meat of the film, which is Pasolini himself. Indeed, Ferrara need not have included so many of these diversions, regardless of how pleasant it is seeing star of six of Pasolini's films (and the directors former lover) Ninetto Davoli on screen. Pasolini is such an intriguing subject that more time could have been devoted to exploring his psyche and philosophies. Willem Dafoe excels here, offering a perfectly pitched performance. He retains his composure when defending his work in discussion with a member of the press, delivering Pasolini's own words with a thought-provoking subtlety. Dafoe's performance is helped immeasurably thanks to the remarkable physical resemblance between the two men. Suspension of disbelief need not be required. At the beginning of the film, Pasolini opines that 'Narrative art is dead €" we are in a period of mourning'. While I am not suggesting that Pasolini would have benefited from narrative cohesion, I did find that the most interesting parts of the film were those that concerned Pasolini and not those that visualised his unmade work. It is beautifully shot, and although Ferrara is clearly infatuated with Pasolini, he does not idolise him and offers a frank and honest account of the man (including an unflinching depiction of his death). Those without prior knowledge of Pasolini and his life and work may not leave the cinema feeling much the wiser, but it is a compelling film nonetheless and a return to form for Ferrara.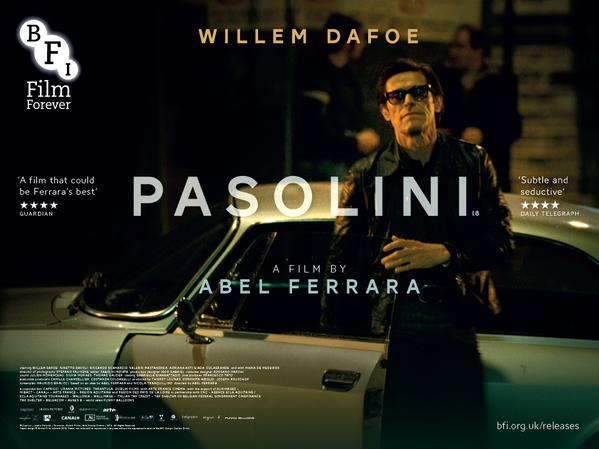 Pasolini is in UK cinemas now.