Philip Seymour Hoffman: 10 Most Memorable Scenes
These scenes are a small glimpse into a long, sterling career of memorable roles that deserve to live-on forever.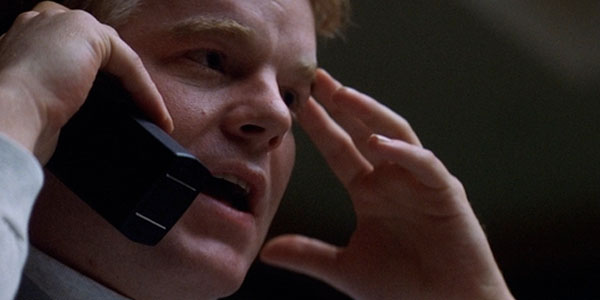 The sad, unfortunate passing of acting legend Philip Seymour Hoffman shocked the world on Sunday. Though he was only 46 years old, Hoffman was an indelible part of American and world cinema and fully embodied every character he portrayed, taking part in over 40 films throughout his career. His untimely passing makes the future of cinema a little less bright, but his legacy will live on in his most memorable performances from a long canon of immortal roles. Hoffman won his only Oscar for portraying writer Truman Capote in the 2005 biopic, but his presence in any film, no matter how small, lent an air of credibility even to otherwise droll movies. He made worlds feel lived-in with a simple glance or a single line, and his incredible versatility led to wide-ranging roles over decades of work. His kind of acting is not simply rare - it was unique, in that no one could pull off what Hoffman managed. For his incredible work and for his unparalleled humility in the public eye, he will be truly missed. Again, these scenes are a small glimpse into a long, sterling career of memorable roles. Where possible, I've included a video of the scene in question. Not every movie with Hoffman is necessarily "a good movie", of course, but more often than not he was the best part of the whole, the reason to watch it at all, and so these scenes are selected from various points in his career to highlight his versatility. I've kept my comments to a relative minimum, because these short scenes really do speak for themselves. With respect, and in no particular order, here are 10 memorable scenes from the legendary Philip Seymour Hoffman.