Pitch Perfect Review: Solid Coming of Age Comedy
rating:3.5
Alright, go ahead and blame me for having a thing for the girls that can hit the high-notes... Anna Kendrick shines on all-levels in her first major leading role as Becca, a socially-dysfunctional Freshman at Barden University. Where the Male A-capella group, the aptly-named Treblemakers (clever...no?), are the biggest draw on campus having won multiple collegiate competitions. During a gathering of all the campus' clubs, Fraternities and Sororities Beca meets the leaders of the Barden Bellas the less-regarded female A-capella group. To say the least, she isn't impressed with group, wanting only to move to L.A in a year to start a D.Jing career. Of course, we need the socially detached lead to learn how to branch-out. So, she eventually tries out and wins a spot on the Bellas. Through the art of montages we see how the group, made mostly of new members, train and harmonize for their upcoming competitions. First rule of the Bellas, not fraternizing with anyone from the Treblemakers, called having a "Toner", due mostly because their lead singer (Adam DeVine) acts like a complete ass towards the female group. More stand-outs include Rebel Wilson ("Fat Amy" as she calls herself, so skinny-girls can't call her it behind her back... now that's pay-back), Brittany Snow and Anna Camp all together forming a motley crew of A-capella singers. Beca may also have gotten more than she bargained for, as she indeed forms a relationship with one of the new members of the Treblemakers (Sklar Astin).
Kendrick's background in musical theater is apparent in every scene requiring her to belt-out a tune. She also plays Beca as a girl who needs to gain the ability to trust and rely on others. Coming from a broken-home, she likely had to emotionally support herself on her own. Through a common interest in music she finds friends that may help her out of her shell. Rebel Wilson's Fat Amy nearly steals the show, delivering great one-liner after one-liner, able to polk fun at the inherent goofiness of the whole A-Capella world. Brittany Snow is the senior who just wants to win one before leaving, and Anna Camp is one of those group members who might be a little too into the whole competition. Rest assured these are characters to root for when their musical numbers start, even some of the members of the Treblemakers are made sympathetic. Those musical numbers are another plus, not unlike the show Glee for which this is obviously inspired by, they're well choreographed and needless to say music to the ears. Hearing the harmonious skills of people singing the day's pop-music with talent to match is a true joy (Sometimes missing on today's radio waves). The best scene is in when Beca improvises at a "Riff-off" rapping to the tune of Blackstreet's "No Diggity", hey whatever works. All-around they add to the feel-good vibes all throughout. You'll be singing along to your own music playlists afterwards (for me it was Stairway to Heaven...).
It's a simple plot, with more than competent execution with extremely relatable leads. For an college-based comedy that's near unheard of these days. The material is handled with the proper amount of reverence for the craft, in addition to finding the built-in humor in it. As the competition announcers will be quick to point out. Though the pitch may not be perfect, there are two scenes of aggressive projectile vomit that could've been left out (nerves can make your stomach refluxes exorcist-like, apparently) the script goes to formula a tad too often and some humor doesn't quite hit on the note, but there is more than enough to recommend in this solid coming-of-age comedy.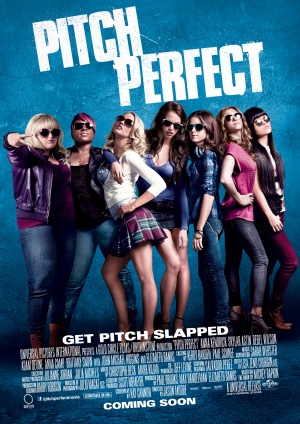 Pitch Perfect opens December 21 in the UK.