Quentin Tarantino's The Hateful Eight - First Poster Revealed
First look at Django Unchained director's new Western!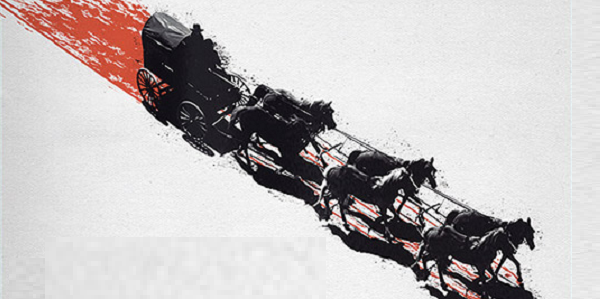 It's probably safe to say we all loved Django Unchained. How could you not? The blood, the guts, the drama, the dodgy Australian accents - it was everything you could hope for in a Quentin Tarantino movie, and more besides. Then QT himself dropped a bombshell: Django was more of a test subject. He was seeing if he could make a Western. And now that he's learned he can - and an awesome one at that - he's moving onto his first big frontier epic proper, in a film he calls The Hateful Eight. The Magnificent Seven's angsty older brothers, maybe? The film suffered a setback in January this year when the script got leaked onto the internet. Tarantino was, understandably, a little peeved at this (and by "a little peeved" we hope you know what we really mean, especially from a man so infamous for penning four-letter rants). For a while it looked like the film might be relegated to the back burner but, during his San Diego Comic-Con appearance to big up his upcoming Django/Zorro crossover funnybook, QT confirmed The Hateful Eight would indeed be his next film. Now The Weinstein Company has released a teaser poster to confirm it, and boy is it a beaut.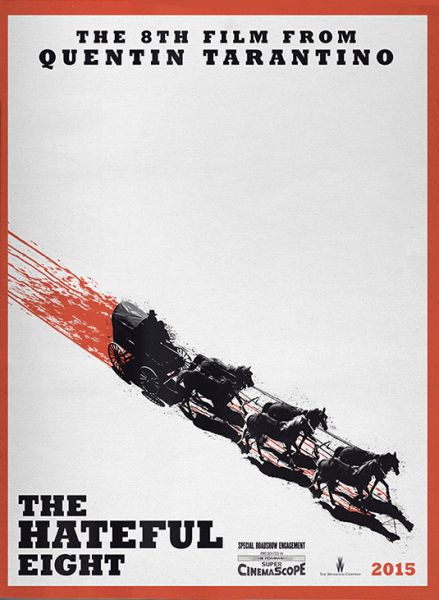 Striking, iconic, elegant, and covered in blood. We repeat: it's everything you expect from a Quentin Tarantino poster, and more besides. Since initial production on the film halted following the script leak, the director decided to stage live readings of the screenplay around his native Los Angeles. These performances included a cast of Tarantino regulars like Samuel L Jackson, Tim Roth, Kurt Russell, James Parks, Amber Tamblyn, Michael Madsen, Denis Menochet, James Remar and Walton Goggins, along with elder statesman Bruce Dern, who's going through something of a late-era career renaissance, between this and his Oscar-nominated turn in Nebraska. The official plot synopsis follows:
"The Hateful Eight follows the steadily ratcheting tension that develops after a blizzard diverts a stagecoach from its route, and traps a pitiless and mistrustful group which includes a competing pair of bounty hunters, a renegade Confederate soldier, and a female prisoner in a saloon in the middle of nowhere."
Right now the confirmed cast for the film includes Dern, Jackson, Madsen, Russell, Remar, Tamblyn and Goggins, plus returning Death Proof star Zoe Bell. It remains to be seen if the rest of the live reading participants will show up in the finished movie, which will be shot in 70mm cinemascope ala Paul Thomas Anderson's The Master. Right now the Weinsteins have got The Hateful Eight locked in for a December 2014 release (just like Django!) but man, if we aren't impatient to watch it now.
Create Content and Get Paid
---