Ranking The Mission: Impossible Movies - From Worst To Best
Your mission, should you choose to accept it...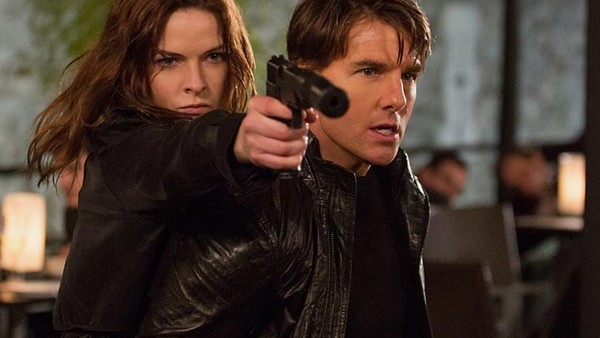 Mission: Impossible is an odd blockbuster franchise in a lot of ways.
Firstly, in an era of franchise fatigue, it's a series that actually attempts to reach higher and work harder to top the former instalment each time around - it doesn't always work but they darn well try.
Secondly, it places a unique priority on its directors. With every instalment (until the recent Mission: Impossible - Fallout) being helmed by a uniquely different directorial voice. Even odder is the producer's embellish their trademarks and signature tonality over continuity and sequel baiting.
Thirdly, it's a franchise that has taken a type-cast heartthrob actor (Tom Cruise) and basically transformed him into a powerhouse action star/producer who does practical stunts that even a young Jackie Chan would baulk at.
These specific against-the-grain qualities have led it to endure into one the highest-quality popcorn franchises still kicking around. None of these movies feels like a tired excuse to pump out another for brand popularity - they feel like passion projects from a ballsy (or maybe insane) star/producer, who has currently evolved it, arguably past long-time rivals Bond and Bourne.
The sixth entry (that's also one of the strongest) just dropped last week - so let's celebrate and rank this high-quality bevvy of blockbuster action.
6. Mission: Impossible 2 (2000)
The clear-cut black sheep of the series. Even the continuity has (basically) ignored the events since, making the whole barmy experience feel like some mid-noughties fever dream.
It was the closest the franchise has come to directly apeing the James Bond formula; the ensemble cast was tossed and Cruise took the spotlight as the handsome spy hero with his romance plot (with Thandie Newton) taking up the meat of the film.
Unfortunately, the leads, while an attractive pair, have zero sparks and the script - involving an uninteresting love triangle with baddie Dougray Scott - is painfully pedestrian and overly serious, resulting in the earlier segments dragging like molasses.
The last thirty minutes finally generate a pulse, with director John Woo in his element in a non-stop barrage of two-pistols shootouts, slow-motion doves and over-elaborate stunt work.
It painfully lacks the heart of Woo's better efforts though - feeling like a distilled version of his flavour for a Western audience. Plus, to be honest, the whole thing just seems silly and dated with plenty of unintentionally hilarious moments.
Still, despite its flaws and head-scratching logic, there is a goofy charm to it all; just don't expect the razor-focused quality of the franchise's later entries.