See 25 Seconds Of The New Star Wars: The Force Awakens Trailer RIGHT NOW
Disney have started teasing the trailer!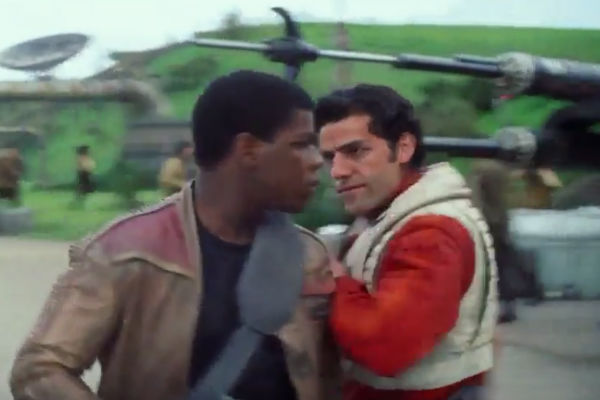 Mere hours after
the awesome new poster
dropped, Disney have started teasing the new trailer for Star Wars: The Force Awakens, set to be unveiled tomorrow during EPSN's Monday Night Football (so about 1am here in the UK). There's been three short trails, which amounts to about twenty-five seconds of in-movie footage (slightly less as some of it is repeated), ahead of probably about two-and-a-half minutes of the full thing. First up is this run down of the new cast - Daisy Ridley's Rey (amongst some scavenged junk on Jakku), Oscar Isaac's Poe Dameron (holding a rifle in some form of base), BB-8 (in the Millennium Falcon, as seen in the second teaser), John Boyega's Finn (outside by Poe's X-Wing as Resistance fighters run about) and Kylo Ren (igniting his cross-guard saber in the forest, seen in the first teaser). Classic theme, nice slow shots - I have chills. https://www.youtube.com/watch?v=Uxk8OW8cQTw Next is a bit slighter - we hear TIE Fighters and see Rey looking up as a massive Imperial force flies over the wooded planet we've seen in a couple of teases, then the shot of her looking worried from the Instagram tease. It's not much, but it does offer our first proper (read: not from a LEGO commercial) listen of what BB-8 will sound like - a more sci-fi-y version of R2 it seems. https://www.youtube.com/watch?v=ZL-bOeCdVvM And finally is an extension of that earlier shot of Finn, with Poe climbing out of his X-Wing and giving the former Stormtrooper an approving pat on the shoulder. Intriguing. I'm loving seeing a bit more of Poe - not only is Oscar Isaac a great actor, but I have a strong feeling he's going to prove a lot more essential to the film than the advertising has been suggesting. https://www.youtube.com/watch?v=k8ueMlJN26M I'm not the biggest fan of teasing teasers, but this is Star Wars Episode VII - it can break the rules a little. These are all cool little glimpses that have me even more hyped than I was before. Tomorrow will be a good day.
The trailer for Star Wars: The Force Awakens drops tomorrow (and tickets will also go on sale). The film hits cinemas in December (17th for UK, 18th for US).
Create Content and Get Paid
---