Simon Pegg Quashes Captain Britain Rumours
The superhero isn't joining the MCU... yet.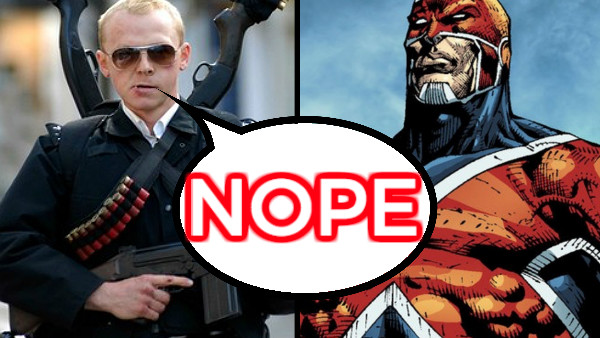 Although he's always been a prominent figure in geek film circles, taking on everything from major roles in Star Trek to bit parts in Star Wars, Simon Pegg has yet to appear in a superhero film.
Even when seemingly every popular actor of his generation has turned up in the MCU or DCEU, Pegg has never really entered that world, but he did get fans' hopes up a few months ago when reports surfaced about the actor wanting to play Captain Britain.
While those comments sent the rumour mill into overdrive, leading many to believe that Brian Braddock might be joining Marvel's ever-expanding cast of heroes in Phase 4, Pegg has now elaborated on his comments. While on the press junket for the upcoming Mission: Impossible - Fallout, the actor explained that his Captain Britain dream casting was taken wildly out of context, telling Screen Rant:
I think somebody asked me recently at an interview that had nothing to do with superheroes. What superhero would I'd like to play. And I just sort of said Captain Britain, because I used to get the Hulk Weekly when I was a kid. And Captain Britain debuted in that. And he's a British superhero. I used to read the Knights of Pendragon. And I figured that was a good answer. Suddenly, all these rumours popped up. Oh, Simon Pegg wants to play Captain Britain. I don't really. But you know, I mean, I try to take every job as it comes. I don't have any ambition really to be in anything else, other than what I'm in now.
Consequently, it seems as though neither Simon Pegg or Captain Britain will be showing up in the MCU anytime soon. Still, considering the actor already has about four major blockbuster franchises he's a key part of, he probably won't be losing any sleep over it.
Would you like to see Pegg in a superhero movie? Let us know down in the comments.