Simon Pegg Says Paramount Killed Star Trek 4
The studio's always got something to do with it...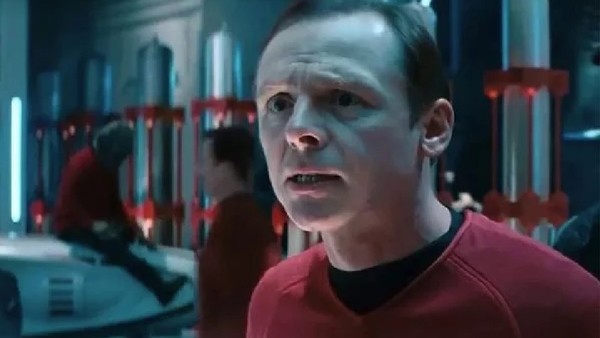 While Star Trek seems to be thriving on the small screen at the moment, with the recent success of Picard and season 3 of Discovery on the way, the big screen films are having less success. The last film to be released in 2016, Star Trek Beyond, struggled at the box office and an untitled fourth movie seems practically shelved following a number of issues.
Now Simon Pegg, who plays Scotty in the Kelvin Timeline, has weighed in on the status of the film and has blamed Paramount for mishandling the franchise, essentially killing the prospects of a future film.
Speaking to Total Film and Games Radar, the actor suggested the studio had messed up the marketing on Beyond, and hadn't taken advantage enough of the franchise's 50th anniversary that year (the original series of the show first aired in 1966).
He said:
"The fact is, 'Star Trek' movies don't make Marvel money. They make maybe $500 million at the most, and to make one now, on the scale they've set themselves, is $200 million. You have to make three times that to make a profit.
"They didn't really take advantage of the 50th anniversary. The regimen at the time dropped the ball on the promo of the film. And we've lost momentum. I think losing Anton [Yelchin] was a huge blow to our little family, and our enthusiasm to do another one might have been affected by that. So I don't know."
In keeping with Pegg's comments, it seems like unfortunately Paramount don't have the same faith in Star Trek as Disney do with the MCU and Star Wars. It is with fair reason - while the most successful installment in the Kelvin reboot, Into Darkness, grossed $467 million, Beyond did less well, grossing just $343 million on the same budget as its predecessor. The death of Anton Yelchin (who played Pavel Chekov) has also complicated matters and there's also the implication from Pegg some of the cast aren't as keen to do a fourth installment without his involvement.
Perhaps interest in the project may resurface eventually, but for now, it seems like Star Trek's future lies solely on the small screen. Who knows, maybe Tarantino's project may finally get the green light?
Create Content and Get Paid
---